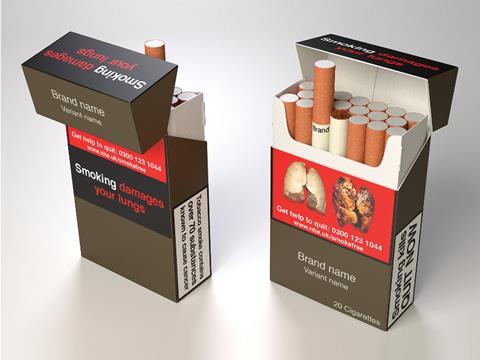 Tobacco companies were dealt a blow yesterday in their fight against the introduction of plain packaging by the Court of Justice for the European Union.

In a non-binding statement, advocate general Juliane Kokott said the European Union Tobacco Products Directive, which was agreed in 2014, was valid. The EUTPD requires pictorial health warnings to cover the majority of the front and back of tobacco packs and also gives member states the opportunity to go further by bringing in standardised packaging that does not contain colours or logos.

Yesterday's opinion stems from a UK case, in which judges asked the European court to determine whether the directive was valid. The court is expected to give a final decision in four to six months. However, it is rare for the court to go against the advocate general's opinions.

In her statement, Kokott said the 2014 rules "make a particular contribution to increasing the visibility of health warnings and maximising their efficacy. The coolness or the fun factor and the curiosity that may be inherent in new or unusual packaging then has a lesser influence on the decision to purchase."

The UK, Ireland and France are the only EU member states currently pushing for plain packs for tobacco. Earlier this month BAT, Imperial Tobacco, Japan Tobacco International and Philip Morris lodged a separate case in the High Court in London claiming the measure infringes their intellectual property rights.

The measure is set to be introduced in the UK from May 2016, with manufacturers and retailers given a further year to sell through existing packs.