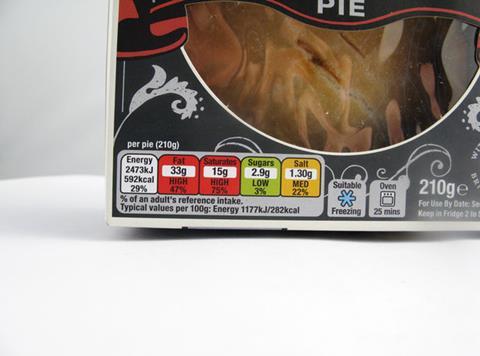 IGD's healthy eating blitz
*Asda boss and IGD president Andy Clarke launched its Health Eating Initiative in October to spearhead the industry's response to the obesity crisis.
*Two weeks ago a major survey was sent out of retailers' and suppliers under another key plank of the strategy will see leading companies try to encourage smaller and medium sized companies to follow their breakthrough on reformulation.
*Nine food and drink companies will launch pilots of health eating "nudge" tactics at 20 sites across the UK in the autumn, to see if workforces can be encouraged to eat more healthily. If successful it is set to be rolled out across many more companies next year and evidence taken to the DH.
The Department of Health's front ­of pack labelling is causing confusion among British shoppers with "hardly anyone" understanding the EU terminology used, an IGD study has found.
The Grocer understands the initial results of a year-­long found the DH hybrid scheme of traffic lights and GDAs to be ineffective in getting the healthy eating message across.
It reviewed 35 different research projects on the effectiveness of labelling and an additional study using shopper research experts ABA involving nearly 150 consumers.
The IGD said much of the confusion surrounded wording in the labels, including the use of the phrase 'reference intake', which replaced 'guideline daily amount' under the new system, at the insistence of the EU.
"We found hardly anybody actually understands the correct meaning of the phrase," said Jon Woolven, IGD's strategy and innovation director.
Shoppers are also being bamboozled by the energy values on pack, with the EU FIC regulation stipulating it should show both kilocalories and kilojoules. "It's another area of confusion," said Woolven. "In normal conversation we use the word calories, whereas technically they are kilocals, but as the word kilojoules is also there, there is evidence this is proving very confusing
"It seems only a very small percentage of people are stopping to think what the labels mean," he added.
With the traffic lights system having been taken up by all the major supermarkets and a raft of leading brands, the next stage of its project will look at how supermarkets and suppliers can remove the mystery surrounding the labels.
"Our focus is first going to be how you explain these intakes, and what's the best ways of doing it," said Woolven. This could include online and in­store information and on­pack marketing. "By the end of this year we want to be road testing ideas about how we clear up this confusion," he explained.
This story has been edited following discussions with the IGD