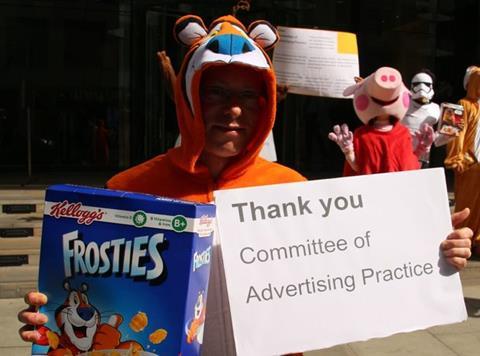 Health campaigners took to the streets outside the offices of the Committee of Advertising Practice today, dressed as characters including Tony the Tiger, the Coco Pops Monkey and Peppa Pig, in a protest at what they claimed were feeble self-regulating laws on junk food.
The Children's Food Campaign, backed by a raft of health professionals and children's charities, organised a "victory parade" by the characters to highlight what it claimed were "glaring loopholes" in rules supposedly designed to protect children from exposure to junk food marketing.
The current rules, as well as tougher new ones now being consulted on by the industry's regulator, do not cover brand characters created by companies. Neither do they cover the use of film and TV characters popular with children in promoting sweets, cakes, sugary cereals, yoghurts and other high-sugar products.
"The characters' message to Committee of Advertising Practice is 'Thank you for keeping us in our jobs, and for allowing us to earn millions by marketing junk food to children'," said Malcolm Clark, co-ordinator of Children's Food Campaign.
"It is hard to resist the pester power when your child is swept up in the latest children's animation or film craze, or spots an appealing cartoon character on a sugary product's packaging or online marketing.
"Film and character licensing has become a £250mn vehicle for encouraging excessive sugar consumption in children, and that needs to stop, along with the use of child-friendly brand characters on less healthy products."
CAP's consultation on its proposed new rules closes on 22 July.