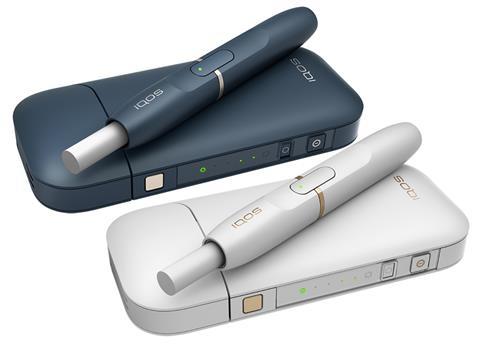 A new report from Public Health England has concluded that new 'heat not burn' tobacco technology is less harmful than smoking regular cigarettes.
In its evidence-based review of vaping and 'heat not burn' devices, the PHE's report, published last week, stated that ad libitum (frequent) use of devices such as Philip Morris's Iqos or its rivals, BAT's Glo and Ploomtech from JTI, 'consistently reported lower nicotine levels in heated tobacco product users compared with smokers'.
Based on evidence from 20 studies – 12 of which were funded by tobacco companies – the PHE went on to note that heated tobacco products 'are likely to expose users and bystanders to lower levels of particulate matter and harmful and potentially harmful compounds' than cigarettes.
However, the PHE's report, entitled Evidence Review of E-Cigarettes and Heated Tobacco Products 2018, also warned that heated tobacco products are likely to be considerably more harmful than e-cigarettes. The lack of awareness in the UK of Iqos and its like, coupled with a 'diverse and mature' vaping market, meant it was 'currently not clear whether heated tobacco products provide any advantage as an additional potential harm reduction product' according to PHE, and it called for further comparison of exposure to heat-not-burn with exposure to vaping devices.
Philip Morris launched Iqos, the first 'heat not burn' device, in December 2016, and has pledged to shift smokers away from traditional cigarettes and deliver what it calls a 'smoke-free future'. launching a website and campaign last month to provide UK smokers with information on quitting cigarettes. The company has more than trebled the size of its UK workforce to support its ambition.
A spokesman welcomed PHE's conclusions, saying it was encouraged by the recognition that heated tobacco products "may be considerably less harmful than tobacco cigarettes".
Almost four million consumers globally have switched from cigarettes to Iqos since the device's high-profile unveiling in Japan and capacity of the Heets consumables at the Philip Morris plant in Italy was recently increased from 40 billion to 100 billion.
"Our scientific evidence clearly indicates that Iqos is a much better choice than cigarettes, and we are encouraged by the growing number of independent studies whose findings are in line with ours," he added.
Philip Morris, which also owns the Nicolites and Vivid e-cigarette brands, wanted to see all cigarette smokers "switch completely to scientifically substantiated smoke-free products as soon as possible". It agreed with PHE that "regulatory policies and providing accurate information to smokers can substantially accelerate the speed and magnitude of this historic change".