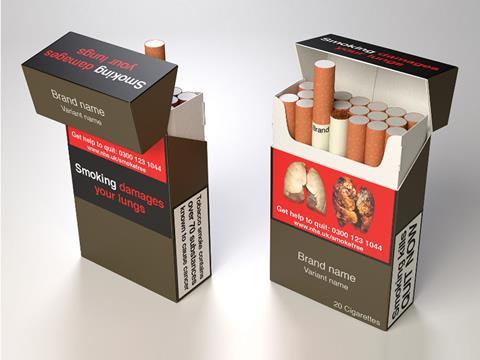 The government this week stands accused of "a crazy oversight" in its plans to introduce plain packaging for tobacco in the UK from May next year.
The row focuses on security and traceability identifiers, the most sophisticated of which tobacco companies argue will be illegal for an interim period of three years, which will pose an increased risk of illicit products flooding the market.
Ian Paisley, MP for North Antrim, in Northern Ireland, where Japan Tobacco International's (JTI) factory is located, has written to chancellor George Osborne and Treasury minister Priti Patel, to warn about a three-year period in which he claimed Codentify, a system the tobacco industry has widely adopted for tracking and tracing tobacco products, will not be permitted.
Paisley said the regulations for plain packaging would forcibly remove Codentify from packs currently used by JTI, Imperial Tobacco, Philip Morris International and British American Tobacco because they do not allow for anything on the pack that is not required by law.
The revised European Tobacco Directive comes in at the same time as plain packs in May 2016 but Paisley pointed out that the track-and-trace provisions in the directive would not be mandatory until May 2019.
Paisley, speaking to The Grocer, complained that the regulations were "very specific" about what made up the standardised packaging.
Anyone including Codentify would be breaking the law, he said, between May 2016 and May 2019 "which seems a crazy oversight".
Paisley told the chancellor Codentify played a significant role in the industry delivering on its commitment to tackle the illegal tobacco trade.
He suggests the three-year gap between the two legislative measures contradicted reassurances Jane Ellison MP, parliamentary under-secretary of state for Health gave in November 2013 that "anti-smuggling devices would be built into standardised packaging, if we choose to go down that route."
He added: "It is frustrating, to say the least, that my warnings have not only been ignored by the DH but that the government has laid fundamentally flawed regulations in Parliament that could actually prevent existing anti-illicit features to be used on tobacco packs."
Paisley suggested the government should withdraw the current regulations laid before Parliament, amend them and re-lay them with a new commencement date.
A spokeswoman for Action on Smoking and Health, said: "The government must have foreseen this. They wouldn't have agreed to this timetable if there was the glaring potential for problems."
She said when plain packs came into effect some sort of covert marking would still be required to make sure products were legitimate.
"The security features required by law on existing packs of cigarettes will be present on standardised packs, including covert anti-counterfeit marks," said a DH spokeswoman.
"We are working across government to ensure that all anti-counterfeit systems that are useful to HMRC and other enforcement agencies can continue to feature on standardised packs."
However, JTI argued that while there was an existing security feature that would remain, tobacco products would have none of the increased security measures that Codentify offered manufacturers and HMRC – "a cutting edge technological means of authenticating product found during seizures and investigations and tracing its movement through the supply chain".
MPs are expected to approve the introduction of plain packaging later despite a revolt by around 85 Conservatives.