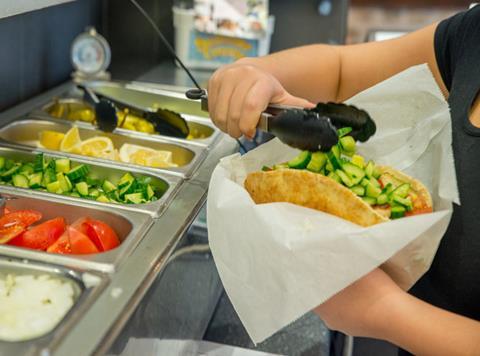 JJ Foodservice is looking to work with more local authorities throughout the UK to encourage restaurants and takeaways to switch to healthier alternatives.

It is promising restaurants and takeaways 10% off healthier eating products for a limited period.

The wholesaler linked with Luton and Essex councils towards the end of last year to participate in TuckIN, a scheme created by the councils' public health teams to help local businesses commit to delivering small, simple changes to improve public health.

TuckIN businesses pledge to lower sugar, salt and fat content, along with using lower saturated fat oils and spreads, changing ingredients and giving the option of smaller portion sizes.

TuckIN is one of three local authority schemes with which JJ Foodservice has been involved, beginning with the mayor of London's Healthier Catering Commitment in 2016. This was later extended to Brighton's Health Choice scheme.
A spokeswoman for JJ said it was a "win-win" for both parties. Restaurants and takeaways got attractive prices while JJ attracted new long-term customers while promoting healthier options.

"We are delighted to extend the initiative as far as possible and encourage local authorities nationwide to get in touch," said Terry Larkin, group general manager at JJ Foodservice.

Rachel Hopkins, portfolio holder for public health for Luton Council, said: "It's great to see that JJ Foodservice has committed to offering takeaways that sign up to the TuckIN initiative attractive discounts off lower salt, sugar and fat products.

"Making small changes like this can really make a significant impact on the health and wellbeing of local people."

JJ will provide the discount in the latest schemes for three months across 38 products. Customers can select five products from JJ's Smart Eating brochure on which to claim the discount.

Luton and Essex is currently evaluating TuckIN to determine what is working well and any improvements that may be needed.