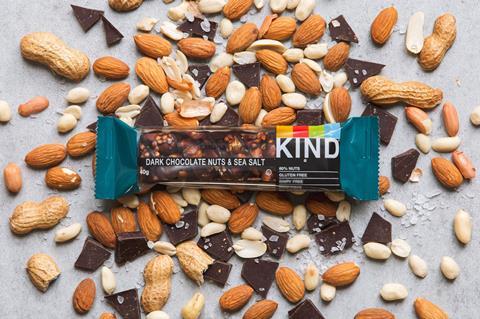 Kind is planning a major lobbying and public awareness campaign ahead of the coming HFSS clampdown.
The Mars-owned brand had begun "initial conversations" with Public Health England in a bid to change the classification of its products, its marketing director John McManus told The Grocer.
"We want the classification of nut products to change, we want any products with over 50% to be classed as nuts and seeds versus confectionery or cereal bars," he said.
McManus added Kind had spoken to "a number of [PHE's] dieticians and nutritionists" with hopes of brokering the change.
As it stands, Kind's snack bar range will be affected by the new rules, which will see bogof offers and end-of-aisle promotions scrapped. Its breakfast range will be unaffected.
McManus said that the bars' high nut content (52%-76%) was part of their appeal for health-conscious consumers and that one bar roughly equated to the recommended "handful" of whole nuts.
The brand was also conducting its own research and had spoken to "over 500 dieticians and nutritionists" to gain support for its cause, he said.
Support from healthcare professionals would help Kind in its fight for reclassification, he added.
Rather than pure legislation, he argued work needed to be done to help consumers understand the "nuances" between healthy and unhealthy fats.
"The opportunity to signpost on fixtures would be really helpful," McManus said.
He called the restrictions a "short-term play" from the government, and said they would make it "harder for consumers to find foods that they should be eating every day".
Kind also planned to launch "education programmes around nutrition" in schools in future, he added.