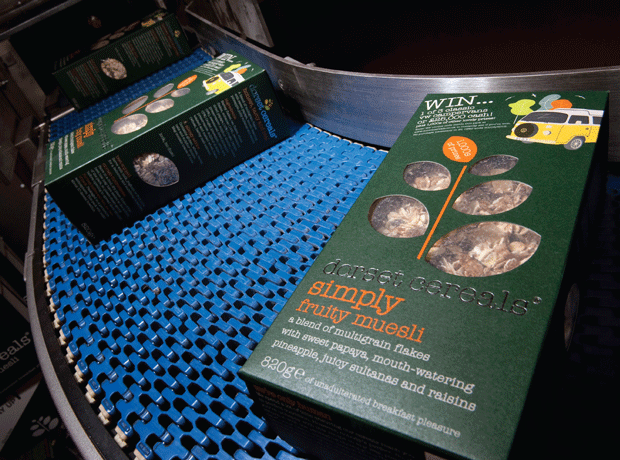 Good food can be bad for you. It's true! If by "good" one means "premium" or "artisanal" – as opposed to "cheap" and "junk". Just because a product costs more, has trendy ingredients or looks pretty, it ain't necessarily healthy. Even the hippest artisanal grub in the wrong quantities can pack on pounds.
That message is starting to filter through to our public health debate. Campaigners are no longer focused solely on run-of the-mill "processed" products that can lead to podginess; the posh stuff, too, is under growing scrutiny. Today's report from Action on Sugar, which wags a finger at upmarket cereal brands for shunning front-of-pack traffic lights, is a case in point.
While mainstream suppliers such as Kellogg's and Weetabix – as well as the mults' own-label ranges – have long adopted the green, amber and red (as well as committing in some cases to reformulation with less sugar), the likes of Jordans, Eat Natural and Dorset Cereals have yet to follow suit. This, says Action on Sugar, is "scandalous".
Whoa there! Scandalous? That suggests wrongdoing – and there's nothing illicit about what those posh breakfast brands are doing. They couldn't be on sale if they didn't detail their sugar content on pack.
"There is plenty of information on our packaging and website, which explains the ingredients and nutritional information," says Praveen Vijh, co-founder of Eat Natural. "We're always up for a chat on the phone too, if consumers still have questions about their product."
Some brands are also concerned traffic lights are unnecessarily reductive in how they convey information about what's in a product (quality of ingredients, for example, isn't captured); others worry about costly (or ugly) pack redesigns.
All valid points, which were not given adequate hearing in much of today's media coverage. But Action on Sugar does have a point about clarity, and it arguably trumps the concerns put forward by brands. It is hard work for shoppers to compare and contrast ingredients lists and nutritional breakdowns. At-a-glance information in the form of traffic lights can make that task significantly easier.
It behoves all brands – no matter how big or small and no matter their price point or fashion credentials – to embrace labelling systems that help consumers make informed decisions.