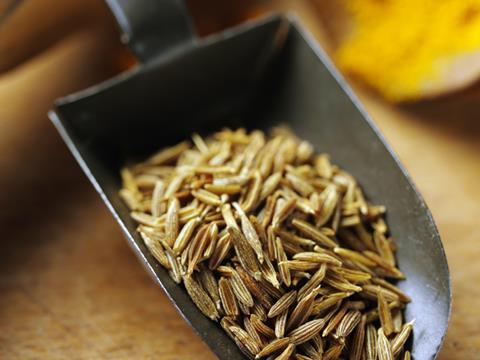 The Food Standards Agency (FSA) has launched an urgent investigation into cumin substitution after traces of undeclared almonds and nuts were found in three separate cumin products over the past two weeks.
The FSA found traces of undeclared almond protein in the seasoning mix of Aldi's Fiesta brand fajita dinner kit and a Morrisons fajita meal kit last week, and recalled batches of ground cumin sold by The Barts Ingredients Company on 31 January for the same reason.
This followed the discovery of similar instances in the US and Canada last month where ground cumin and products containing ground cumin tested positive for undeclared peanut protein. The FSA said there was "currently no evidence" the cases were linked.
As The Grocer revealed earlier this year, Indian's poor cumin crop has led to shortages and caused prices to soar to a two-year high. They stood at £1.33/kg in January, the highest since late 2013, with delayed sowing due to high temperatures and farmers switching to other crops leading to a 41% reduction in planted crops in the major growing region of Gujurat.
The high prices may have prompted some suppliers to swap cumin with cheaper peanuts and almonds, experts have warned. Given undeclared nuts are potentially lethal to allergy sufferers, Professor Chris Elliott – who led a government inquiry into food supplies chains following the horsemeat scandal – warned over the weekend the issue was potentially much more serious than Horsegate.
Allergy UK has urged allergy sufferers to avoid buying all curry and other spicy products for the time being. The FSA has yet to publish any specific guidance for allergy sufferers on the matter.
"Investigations are on-going and both the FSA and the food industry are continuing to test cumin, products containing cumin and other spices for both undeclared peanut and almond protein," said a spokeswoman.
"The FSA has been pro-active in checking for problems with cumin supplies in the UK and will continue to take action to protect consumers."