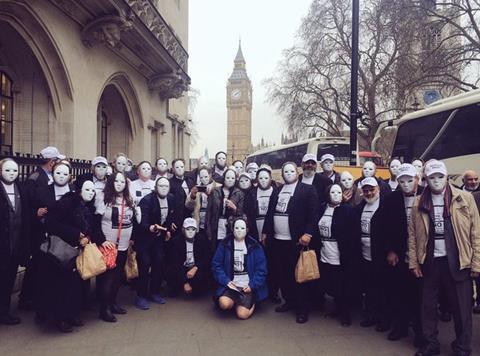 Photo by @SarahParsonsRE
About 100 independent retailers from all over the UK and Ireland marched on Westminster on Wednesday to vocalise their opposition to the proposed regulations on tobacco packaging.
National Federation of Retail Newsagents (NFRN) national president Martyn Brown met Nick de Bois, Conservative MP for Enfield North, and Gerry Sutcliffe, Labour MP for Bradford South, to explain their concerns about the damaging impact the non-branded packs would have on public health and independent retailers' businesses.
Brown said: "Plain packaging is not the way to stop young people smoking. All it will achieve will be a rise in smuggled or counterfeit tobacco. Sales will be taken away from those who retail responsibly and into the hands of a wholly unscrupulous and criminal fraternity who will exploit any opportunity to make money, including selling tobacco to those under the age of 18."
NFRN members followed the meeting with a rally, wearing plain masks and t-shirts emblazoned with "NFRN says no to plain packaging", as they marched to the Department of Health.
Brown called on NFRN members during the rally to play a part in getting the government's plan overturned.
"Make your MP aware that plain packs will not stop young people from smoking," he told retailers. "Remind them that counterfeit cigarettes are already a huge and growing problem and that putting tobacco products into plain packs will make this even worse."
He implored them to write to their MPs or invite them to their shop. "Talk to your customers and get them to tell your MPs that they don't want plain packs either. Doing so will mean that together we can send clear messages to the government: that consumers are opposed to plain packs, that plain packs will not prevent people from smoking, that the sale of illicit tobacco will just get easier," Brown said.