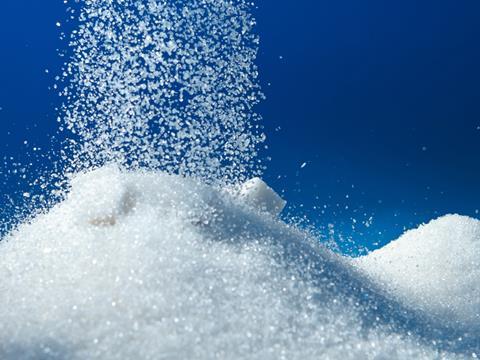 A major government strategy to tackle childhood obesity is set to be revealed next month, with industry leaders predicting new reformulation targets and a proposed clampdown on advertising to young people.
The Department of Health is believed to be planning a consultation on proposed measures in the first two weeks of July, timed to coincide with the publication of the long anticipated SACN report on carbohydrates. The report is expected to call for a massive reduction in the recommended levels of sugar intake.
Leading food and drink industry sources believe the plans will spell the end of the Responsibility Deal in its current form, with a more regulatory approach being brought in.
One source said: "I think the supermarkets are going to get a kicking. It looks like there will be new targets on sugar reduction, and the DH will also act on the measures on supermarket promotions which it failed to secure under the RD.
"I think the consultation will also give the industry a last chance to put our house in order on responsible advertising to children."
"The DH is likely to call for sugar reduction targets and further advertising restrictions," said another source close to the issue. "There has been a very hostile atmosphere towards sugar over the last 18 months with numerous wild claims circulating – we hope this hasn't influenced the report."
The Grocer has learnt that SACN has decided to stick with the vast majority of its draft recommendations from a year ago, despite the industry raising doubts over its claims about the link to obesity and diabetes of products such as fizzy drinks.
The biggest shock in the draft was a call for the recommended intake of energy from sugar in diets to be no more than 5%, half the existing recommendation. This comes despite all age groups currently missing the existing higher figure.
The SACN report is also set to call for a massive increase in fibre intake but it is the war on sugar which is expected to be the key focus of a PHE strategy proposed to ministers.
"The SACN report looks like it's going to be the trigger for a package of action," said FDF director general, Ian Wright.
"My concern is that the government maintains its commitment to self-regulation. The industry has done a cracking job and achieved far more with the RD even than it committed to."
Some leading companies have already made commitments on sugar reduction, with Tesco announcing last month plans to cut sugar in its entire soft drinks range by 5% each year and Coca Cola Enterprise pledging to slash calories by 10% across its entire portfolio by 2020.
However, sources said they expect a more formal set of targets (as called for by campaigners Action on Sugar), similar to the salt reduction targets drawn up by the FSA and then taken on by the RD.
"I think the Responsibility Deal will just be quietly left to die," said an executive at one leading company.
"We hope that there will still be large elements of self-regulation but we have to face up to the fact that there is an obesity crisis and the industry has a big role to play in tackling it."
Under the coalition, the DH repeatedly tried and failed to get supermarkets to sign up to sweeping reductions in the promotion of food high in fat salt or sugar, including the voluntary removal of so-called guilt lanes at the till, a restriction on products high in sugar featuring on aisle ends and also a crackdown on marketing to children using tactics like cartoons.
A key focus of DH plans is also likely to be marketing on television and online.
"We're off our head if we think that it's fair game advertising to children over 12," admitted one leading source.
"We need a proactive public health policy but this must be based on solid scientific evidence, not the latest food fads," said a spokesman for Sugar Nutrition UK.
"Demonising sugar as the source of our public health problems is neither supported by science nor helpful to the general public.
"Despite current perceptions, the reality is that average free sugars intakes amongst the UK population have been gradually declining for many years while obesity levels have been rising. Boring as it may be, the reality is that eating a varied, balanced diet and leading a healthy, active lifestyle is the best way to prevent obesity and lifestyle diseases."
One source said: "The recommendations contained in the draft SACN report, in several cases, lacked robust scientific evidence to support them and, if implemented, are likely to be confusing and impractical for the public."