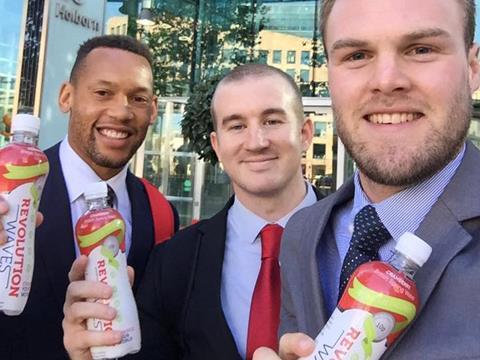 Tesco has listed a new range of zero-sugar soft drinks developed by a team of sports stars, who say they plan to donate 10p from every sale to NHS charities to give something back for the harm done by added-sugar drinks.

Revolution Waves, a range of flavoured British spring water drinks, has gone on to shelves at 32 Tesco stores across Yorkshire.
A Tesco spokesperson told The Grocer: "We know our customers want us to support smaller, local producers and we are always looking at ways to do that. As a result, we're delighted to have started stocking Revolution Waves flavoured waters in stores across Yorkshire. Not only is it a great tasting, local product but 10p from every purchase goes towards Yorkshire NHS charities so it helps the community too."
The brainchild of former rugby player Charlie Simpson-Daniel and ex-cricketer Phil Raikes, based in York, 10p from each sale split between a range of different charities and hospitals, as well as Yorkshire-based NHS causes.

Simpson-Daniel, a former Gloucester and England sevens player, said they hoped the sale of the cranberry and raspberry-based drinks, which have less than 11 calories, would help persuade people to stop drinking added-sugar drinks.

"As sports people we want to get the message across that drinking drinks like Coke is bad for your health," he said.

"Tesco have been very supportive of what we're doing."

Simpson-Daniel said he hoped the sporting background of the owners would help get the anti-sugar message across.

The company's marketing director is England sevens star Dan Norton, clocked as faster than Usain Bolt over 40 metres and a silver medal-winning Olympian.

Sales director Raikes said: "We are providing a clean and healthy alternative to the traditional soft drinks on the market that have profited from feeding the nation sugar and as a result have cost the NHS millions in healthcare."

Tesco North tweeted about this week's launch: "There's a revolution happening in Yorkshire and @RevolutionWaves are leading it. We're proud to have them on our shelves!"

Tesco's involvement is the latest in its war on sugar in the drinks aisles. In November, the retailer announced the final 50 products in its own label lineup had seen sugar levels cut to below 5g per 100ml, following the reformulation of its 251-strong range that began in 2011.