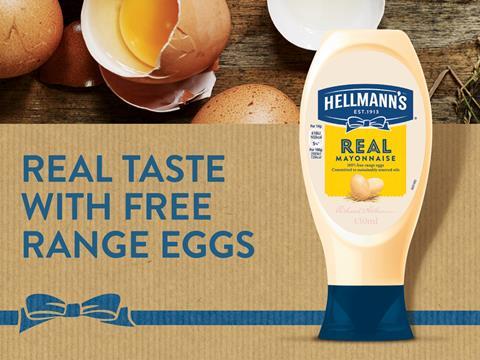 Shareholders who this week persuaded Unilever to commit to transparent reporting on HFSS products have said they are planning further action against other major suppliers.
Unilever became the first major manufacturer to bow to ShareAction's co-ordinated campaign to persuade retailers and suppliers to commit to reporting on the health of their products and set targets for reformulation and healthier NPD.
The Marmite and Hellmann's maker had previously backed its own internal metric to claim its portfolio is healthy, last year reporting 61% of its food and drink sales were derived from products with "high nutritional standards".
ShareAction disputed the figure and said an independent review estimated it to be just 17%.
However, this week Unilever agreed to set new stretching targets for growing the proportion of its healthier products, based on the government's Nutrient Profile Model (NPM), by October and to submit these targets for shareholder scrutiny. Hanneke Faber, Unilever president of foods & refreshment, said it shared a "a common belief in the importance of having an ambitious long-term strategy for nutrition and health, and that companies should publish ambitious targets to deliver against".
It is the lastest victory for ShareAction, a coalition including pension fund giant Nest, Guy's & St Thomas' Foundation and JO Hambro Capital Management, which had its first major breakthrough when, in May 2021, Tesco agreed to a raft of new measures across its UK stores, with the aim of 65% of its sales coming from products defined as healthy under the NPM.
Louisa Hughes, ShareAction's food and health engagement manager, said it was in talks with 16 other companies, including Britivic, Nestlé, Kellogg's and General Mills, and was now planning its next move.
"Obviously manufacturers across the sector are very important but Unilever arguably has the biggest impact of the lot," she said.
"We hope that if we can shift them, we can shift the sector as a whole. Manufacturers are calling for transparency and we believe that other manufacturers will realise this is something they should do.
"We are aware that manufacturers are already collecting this data and there are other wheels in motion. We have been engaging with 16 other manufacturers since early last year.
"They are not all UK-based companies so it will not necessarily be easy but we are in conversation with a number of them."
ShareAction is also calling on the government to update the NPM to take into account a review by the now defunct PHE, published in 2018, despite warnings from the FDF that it would bring thousands more products under the scope of HFSS.
The report has been sidelined by Boris Johnson's government, but Hughes said: "We would strongly urge the government to bring the profile up to date with what scientists are recommending."
Unilever's move could be significant given organisations like the FDF have spoken out against plans for mandatory reporting on health, as proposed in Henry Dimbleby's National Food Strategy.
Former FDF CEO Ian Wright said previously: "I think it's most unlikely that they will ever see the light of day, partly because you are asking all sorts of companies to impart all sorts of confidential information that their competitors will gobble up with great glee."
This week the FDF, whose new CEO is Karen Betts, refused to comment, calling it "a matter for Unilever".
However, some other big manufacturers said they would be sticking to their own HFSS metrics.
"Since 2016, we've used the Mars Food Nutrition Criteria to guide our approach to provide healthier food through our portfolio," said a spokeswoman for Mars Food. "It includes limits for energy, added sugar, salt, and saturated fat content in all of our products, as well as targets for the inclusion of dietary fibre, vegetables, wholegrains and legumes.
"Although it's an internal scheme, it is based on the strictest and most widely agreed upon nutrition recommendations on daily reference intake values issued by the World Health Organization and other leading public health authorities.
"It's also verified by an external panel of nutritionists, and we continue to consider the latest science or regulations in how we evolve this."
Nestlé said it also went by its own internal metrics, which it said were frequently audited by the ATNI on nutrition.