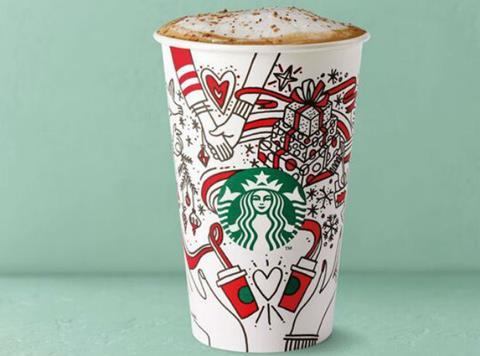 Starbucks has slashed sugar levels across its festive range this year to meet its 25% reduction target by 2020.

The coffee chain launched its seasonal menu on 2 November.

Added sugar in its red velvet cake has fallen by 54% from 59.2g per portion in 2015 to 27g in 2017.

The coffee chain has also slashed sugar levels by 22% in its honey & almond hot chocolate from 33.3g to 21.6g, while its eggnog latte has seen an 11% sugar reduction from 24.3g to 21.6g over the past two years.

Starbucks has further reduced sugar levels across its honey & almond hot chocolate, and eggnog, toffee nut and gingerbread lattes since a sugar reduction relaunch last year.

Since 2014, Starbucks has cut added sugar in its seasonal drinks by 34%.

"We are making good progress in taking sugar out of our drinks, simplifying ingredients, and offering lighter menu options," said Starbucks EMEA research & development VP Sara Bruce-Goodwin.

"This year we're bringing the same great festive flavours that our customers know and love, with even less sugar content."

Last November, Starbucks introduced an 8 fl oz short size cup for all hot drinks and stopped promoting its largest size, Venti, on its menu boards for its more sugary drinks.

This was followed by the launch of its new healthy salad range under 450 calories, new fruit smoothie bowls with zero added sugar, and new loaf cakes that saw up to a 17% reduction in sugar levels.