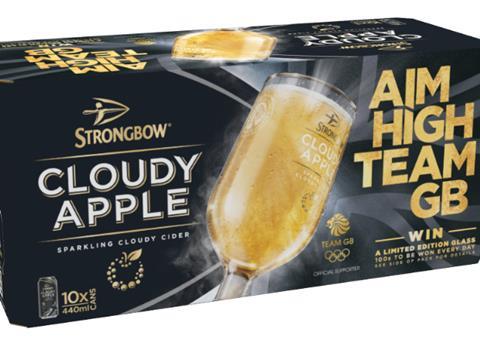 Strongbow has insisted its marketing activity during the Olympic Games will be "exclusively focused" on the adult fans cheering the nation.
The brand's message comes in response to leading alcohol awareness campaigners' criticism of the cider's sponsorship of Team GB in Rio.
Brand owner Heineken told The Grocer that Strongbow would not be sold or promoted at games venues, nor would it be featured in TV coverage of the games or be linked to an individual member of the British team. "As part of our Supporting the Supporters campaign, we have produced commemorative cans, together with TV, digital and outdoor advertising that celebrates the passion of the fans," said a Heineken spokesman.
The statement followed 20 key health campaigners urging Team GB to make a commitment that, for future events, it will not partner with the alcohol industry.
In a letter published in The Guardian today, signatories including Alcohol Health Alliance chair Sir Ian Gilmore; Institute of Alcohol Studies director Katherine Brown, and Royal Society for Public Health chief executive Shirley Cramer expressed fears that the partnership between Team GB and Strongbow would send a message to young people that "sport and alcohol go hand in hand", and as a result would encourage children to drink.
The British Olympic Association claimed it was "confident the partnership and its proposed activation" would be appropriate. "Advertising of alcohol brands is not prohibited in a sporting context but we have taken the time – along with Heineken – to ensure that the partnership meets certain standards in relation to its positioning and messaging, including those of the Portman Group."