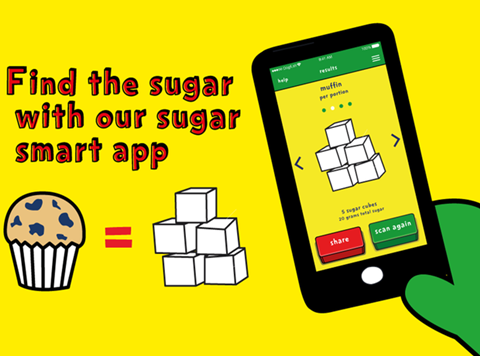 Considering how lame its public health messages have been to date – all too often they resemble an outtake from Hartbeat star Morph – Public Health England (PHE) must have been pleased with the publicity splash it made with the launch of its new anti-sugar app this week.
Perfectly timed for the post-festive sugar guilt rush and backed by a host of supermarket giants – including Asda, Morrisons and Tesco – the clever smartphone gizmo enables consumers to scan the barcodes of more than 75,000 products to reveal the amount of sugar contained – represented as both sugar cubes and grams.
What's more, PHE is throwing a £5m marketing campaign behind the Change4Life Sugar Smart campaign, fronted by TV presenter and Strictly star Jamelia, which is a much sweeter sum than many may have thought given the government's finances.
However, the new app, which The Grocer took for an early test run, also throws up some major question marks over what the wider Department of Health strategy should be when it comes to communicating with consumers in the digital age.
First off, it ignores the reality that, for now, the vast majority of shoppers do not regularly use apps as a fundamental part of their shopping trip. Even the most optimistic tech enthusiast would acknowledge that some never will. Trying out the gadget for the first time at our nearest Tesco Extra, the overwhelming experience was of strange looks from shoppers and fear of eviction by Tesco's security guards for being a Lidl spy.
Then, of course, there is the fact the UK's mobile service is currently so bad it renders all of these apps pretty pointless. A bit like the train device that tells you your carriage is running perfectly on time when in reality it's stuck somewhere outside of Clapham Junction, what is the use of a health app that cuts out as soon as you reach the soft drinks aisle because of bad 3G reception? That's what happened to us on our test run of the app.
"Is PHE admitting what many privately fear – that despite careful design and major take-up among supermarkets, front of pack labelling has failed?"
Having said this, it is possible to see how the app could one day become powerful weapons, particularly in the hands of parents.
Some argue that sugar cubes don't mean anything to most people of the modern age. But there's no doubt that when you scan the barcode of a product such as a soft drink and a huge pyramid of cubes cascades down the screen, it might make you think twice about buying the product – potentially ever again.
Of course, this has potentially massive repercussions for suppliers, from whom backing for the app was noticeably much thinner on the ground than from retailers.
Apart from obvious protectionism, they have genuine reasons for concern. Despite itself warning it would be a "disaster" if the current focus on sugar reduction meant consumers ignored advice on fibre, salt and fat, PHE's new toy surely leads to exactly that. Why sugar lumps rather than bucket loads of fat, or barrow loads of salt?
And what on earth does the app, if it takes off, mean for the DH's front of pack traffic lights system? This does include more balanced nutritional information, and not too long ago had been hailed by the DH as the turning point in health labelling.
Is PHE admitting what many privately fear – that despite careful design and major take-up among supermarkets, front of pack labelling has failed, if for no other reason than the consumer's gnat-like attention span? If so, then it's not just PHE's boffins who believe smartphone technology signals the way forward in labelling, rather than primitive on-pack cubes, spoons or traffic lights.
At the Consumer Electronics Show in Las Vegas, a French start-up this week was showing off a new $250 device that allows consumers to scan actual foods (never mind barcodes), such as cheese, crackers and bread, to get a complete nutritional breakdown on their phone.
The tiny bluetooth-connected molecular sensor called Scio, developed by French parents inspired by the impact of diabetes on their child, is – much more so than the Sugar Smart app – something for the future. It currently doesn't work on composite foods like ready meals or sandwiches, for instance.
But it does illustrate how technology already exists that has the potential to make category-changing consumer decisions a click of a button away – with on-pack labels being sidelined.
PHE's idea has the potential to morph into a lot more than it bargained for.