Anti-sugar campaigners are set to launch a wave of shock adverts, funded by the taxpayer, warning of the health impact of high-sugar products such as fizzy drinks.
The digital campaign, due to launch in two weeks' time, is being run by the North West Directors of Public Health (NWDPH), which is supported by groups such as the Children's Food Campaign and Action on Sugar.
Lobbyists said they were fed up with the "softly softly" approach conducted by the Department of Health's Change4Life campaign.
The new push will turn to the shock tactics recently used in publicly-funded adverts in Australia. Those ads feature families, including children and babies, eating sugar straight from fizzy drink bottles and bowls to demonstrate the high levels of sugar the products contain and their impact on obesity and diabetes.
"There is a need for a much stronger message," said Malcolm Clark, co-ordinator of the Children's Food Campaign, which is part of the umbrella group backing the new UK ads. "There is growing evidence for health warnings on sugar as we have for cigarettes."
Clark also accused Public Health England, which runs the Change4Life campaign, of watering down its latest cartoon-style ads after it ditched its 'Hidden Nasties' message last year following complaints from the industry.
The NWDPH is calling on the government to bring in a sugar tax and a new ban on advertising of "junk food" before the watershed. It has launched a dedicated website, giveuplovingpop.org.uk.
However, the new campaign has angered some. "It's disgraceful that taxpayers' money is being spent on this sort of one-sided campaign," said one industry source.
But Katherine Jenner, campaign director for Action on Sugar, accused the government of being too close to the industry to create a more powerful anti-sugar message.
"The 'softly softly' approach of Change4Life is an inevitable result of working hand in hand with food industry partners," she said.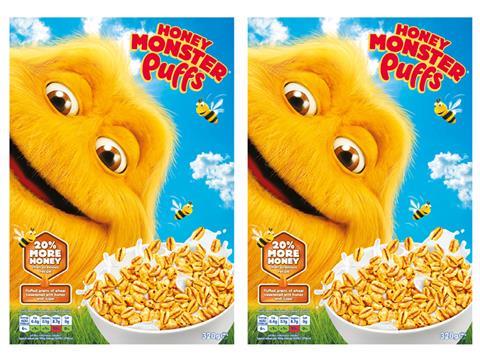 Getting sweeter: cereal reformulation attacked
Industry reformulation efforts on cereals came under attack this week.
Action on Sugar released a follow-up to the 2012 Which? Breakfast Cereal Report, which revealed high amounts of sugars in 50 breakfast cereals.
The new report surveyed the same 50 products and revealed that while there had been "notable achievement", some products contained even more sugar than in 2012.
Big reductions came from Aldi's Harvest Morn Crunchy Honey Nut Corn Flakes (-19%) and Honey Monster Puffs (-17%). However, Aldi's Harvest Morn Choco Rice saw an 18% rise, and Morrisons' Honey & Nut Corn Flakes and Sainsbury's Honey Nut Corn Flakes both saw 8% increases.