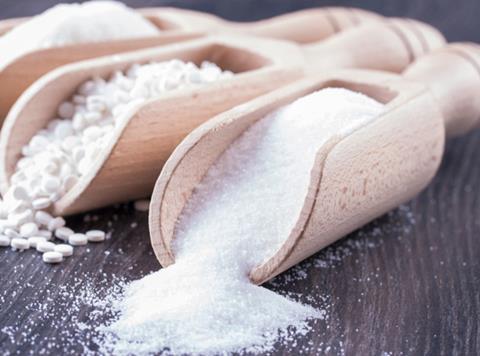 Sweeteners have overtaken sugar and are almost as common as fruit juice in soft drinks, as the war on sugar forces retailers and suppliers to reformulate their products, research by The Grocer can this week reveal.

Figures compiled using Brand View data show that at the last count Tesco, the UK's biggest retailer, which has led the war on sugary soft drinks, carried 517 products that contained sweeteners but not sugar, compared with 419 that had sugar but no sweeteners.

Although 179 out of the 1,400 products surveyed contained both sugar and sweeteners, the major reformulations being carried out by leading retailers such as Tesco and suppliers such as Lucozade Ribena Suntory (LRS) mean the dominance of sweeteners is likely to rapidly grow even stronger.

Our data shows that 49.5% of drinks at Tesco now contain sweeteners, compared with 42.5% containing sugar and 52.5% containing fruit juice.

The list of sweeteners was headed by the three artificial ingredients acesulfame (ACK), aspartame and sucralose, which were contained in 29%, 24.9% and 20.3% of the products respectively.

The results come as campaigners continue to pile pressure on drinks companies to reformulate, claiming that even the proposed soft drinks levy does not go far enough.

A study by Action on Sugar, published in the BMJ Open, showed the sugar content in carbonated sugar-sweetened beverages varied between different flavours and within the same type of flavour, ranging from 3.3g to 52.8g per 330ml - equivalent to 12 teaspoons.

The authors claimed the findings demonstrated that the amount of sugar added to fizzy drinks could be reduced without technical issues and said there was an urgent need to reduce sugar by either setting incremental sugar reduction targets or ensuring the soft drinks sugar levy does result in reductions in sugar levels.

However, AOS and Pubic Heath England have both called for sweeteners to be next on the government's hit list for action.

"In the short term, companies may replace sugar with sweetener to remove calories from drinks but overall sweetness of the product should be reduced to change the nation's taste preferences over time," said AOS nutritionist Jennifer Rosborough.

One senior retail source said: "I think there are going to have to be some big discussions around sweeteners and it will be very interesting to see how suppliers fare in creating products using more natural sweeteners."

Last week LRS boss Peter Harding, who announced the company was to slash the sugar in its brands in what he claimed was a "game-changing" breakthrough in reformulation", described artificial sweeteners as "essential to our cause."

Harding, who is also chairman of the BSDA, said despite pubic concerns over ingredients such as aspartame, the ingredients being used by suppliers had passed rigorous safety checks from the likes of the DH, WHO and FDA in the US.