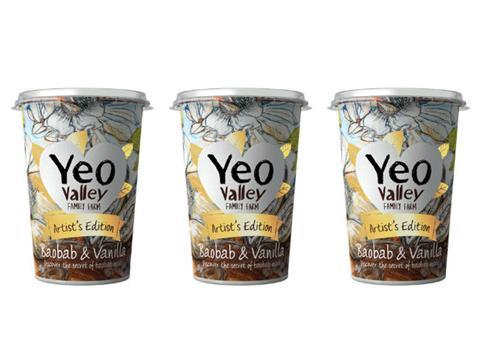 You need a hammer to open it, the fruit is dry and it only grows in the most arid parts of Africa.
Baobab isn't the most obvious superfood. And if we're honest, we were a little stumped at The Grocer when we received one of the fruits before Christmas. After using our expertise to crack open the hard shell – ie smashing it repeatedly against a brick wall – there were mixed reviews of the white, powdery contents inside.
One more enthusiastic colleague described it as a "like sherbet without all the sugar". Another more critical member of the team thought it was more a "kind of fruit-flavoured polystyrene".
So when Organic Herb Trading invited The Grocer to a baobab-themed food and drink event, there were admittedly some feelings of trepidation. The evening was designed to promote its partnership with Yeo Valley, the result of which is a limited-edition yoghurt with vanilla and baobab.
The menu was designed to win over sceptics: canapés included pork belly, salmon sashimi and artichoke purée (all, crucially, with baobab accompaniments). And the dishes did a convincing job. It turns out the sharp, lemony flavour of the baobab works well as a cooking ingredient, or added to smoothies, milk shakes and porridge.
Yeo Valley and its partners on the project – B'Ayoba and Organic Herb Trading – are convinced baobab could be the next high-profile superfood.
The superfood to watch
This could be a trickier battle to win. Several ingredients have been hailed as the next superfood, only to quickly disappear from public consciousness. Remember the watermelon juice craze? Us neither. Baobab was indeed hailed as the superfood to watch by one national newspaper in 2015, yet most UK consumers remain unaware of its existence.
But there are some convincing arguments for making it an ingredient in the UK diet. Early studies suggest it could help regulate blood glucose levels and help you feel fuller for longer; two welcome properties in a nation struggling with rising diabetes and obesity levels. Containing 50% fibre and a third of your vitamin C requirement in 10g, it ticks plenty of boxes on the nutritional front.
Plus, it is easy to incorporate into your existing eating habits. Although the fruit is notoriously hard to crack, its powder form (currently only available from the likes of Holland & Barrett) can be stirred into porridge or smoothies in a similar way to protein powder.
Harnessing the brand power of Yeo Valley – which is taking its limited-edition yoghurt to the major supers – could finally bring the fruit into the mainstream public consciousness. So who knows, 2018 could yet be the year of the baobab. Get your hammers at the ready.