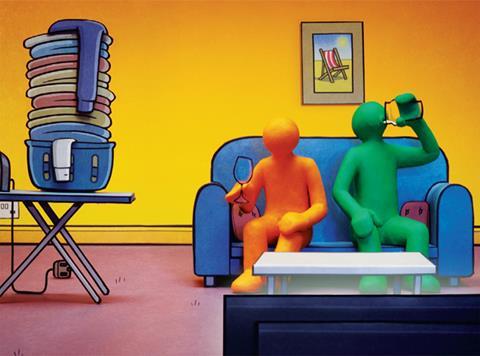 The government's Change4Life campaign characters have often been reminiscent of a poor man's Morph.
Health experts have yet to realise it's time to put Tony Hart's Change4Life creations into the retirement box alongside him, if they are to really get serious about a hard-hitting message on obesity.
If obesity really is as serious as smoking it needs to be treated as such, with a heavily backed campaign aimed at parents and children alike.
Over the past couple of years the campaign has, at least, morphed into something more closely connected to decisions being made at the supermarket shelf.
Last year we had the 'Look for 100-calorie snacks, two-a-day max', which – albeit a dreadful mouthful few parents would remember – was a more powerful message than most of what had gone before.
Today PHE returns with a new 'Make a swap when you next shop' campaign, which appears to have been stolen straight out of Tesco's recipe book.
The fact that Tesco is not taking part may or may not have anything to do with the fact PHE's campaign is a virtual identikit to its own Healthy Little Swaps, now fronted by celebrity chef Jamie Oliver.
But even though it lacks the support of the UK's biggest supermarket, the campaign, backed by the likes of Aldi and Asda and suppliers including Nestlé, is at least flagging up the vast amount of reformulation going on in the industry. This includes areas such as cereals, yoghurts and soft drinks – all areas which in the past have been feeding the childhood obesity crisis.
Yet, as it is prone to do, PHE has again left the doors open to confusion, despite its good intentions.
Once again it has reverted to the headline-grabbing focus on sugar in its health message, despite even the likes of arch health campaigner Action on Sugar admitting there has been too much focus on sugar, and not enough on overall calorie intake, in government policy.
The addition of yet another label, this time the 'Good Choice' label, for snacks low in sugar will surely leave parents even more confused. Experts ought to be doing far more to educate parents about the existing front-of-pack labelling of products – covering all nutrients, not just sugar – which companies like Nestlé have been spending millions getting behind.
But the biggest irony of all is that among the products parents are being advised to buy as "healthy" alternatives, are a whole batch that could find themselves banned from advertising and in-store promotions if PHE gets its way.
As revealed by The Grocer last year a raft of products including cereals, fruit juice and yoghurts faced being "demonised" and banned from in-store and TV promotions by PHE's nutrient profile review, even though in many cases these are the same products that have led the way on reformulation.
Try explaining that one to parents on the hunt for healthy choices. It will take more than yet another new logo.