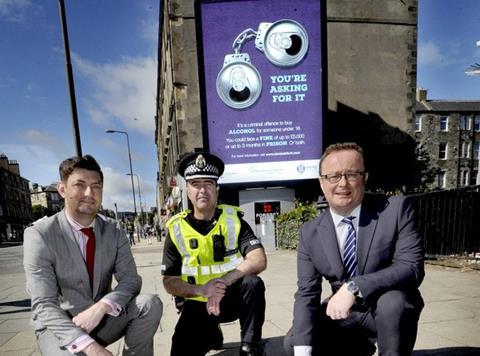 Retailers in Leith, Edinburgh have launched a new campaign to tackle the issue of proxy alcohol purchasing.
You're Asking For It was launched with help from Police Scotland and City of Edinburgh Council to raise awareness of the risks and penalties of buying alcohol for anyone under the age of 18.
Campaign advertising will warn the public of the consequences of proxy purchasing and encourages communities to come forward to report or challenge anyone they suspect of buying alcohol for underage drinkers.
Activities include a giant digital advertising screen on display in one of the city's busiest streets, Leith Walk, and information packs developed by the Scottish Alcohol Industry Partnership will be delivered to all licensed retailers in the area.
"Responsible retailing and initiatives such as Challenge 25 have significantly helped reduce the number of direct sales of alcohol to under-18s, but young people are increasingly accessing alcohol by other means," said Scottish Grocers Federation head of public affairs John Lee.
"Asking an adult to buy alcohol for them is one of the most common tactics used. This campaign raises awareness of the serious consequences of buying alcohol on behalf of a young person and provides support for retailers in the area - there is very little retailers can do by themselves to solve this problem and we need a multi-agency partnership approach."
Local area commander for North East Edinburgh chief inspector, Kevin McLean, added: "We currently believe that the issue of proxy purchasing is under-reported within the Leith area and one of the key aims of this campaign is to ensure the public contact police if they witness someone buying alcohol for minors.
"We also want people to know the penalties they could face, should they be caught committing this offence. I would urge all members of the community to take notice of this initiative and help us reduce antisocial behaviour and disorder offences in the area by reporting incidents of proxy purchasing and by refraining from purchasing alcohol for anyone under the age of 18."