Last year, organic brands were the one bright spot in an otherwise gloomy picture for wet babyfoods - but this year the story is far less straightforward. Brand leader Ella's Kitchen continues to blaze a trail and now heads the category, but other organic brands - most notably Organix and Plum Baby - have haemorrhaged sales.

The fact that total sales in the wet babyfoods category are static, rather than in decline, is largely down to Ella's Kitchen, whose launch of 25 new products, including new 'spouch' cereal packs, has driven a 22% increase in value, matched by a similar volume rise for the brand. Organic is part of the 'no compromise' food mums choose for their children, according to Ella's Kitchen founder Paul Lindley - but simply being organic is not in itself sufficient to sell babyfood. As he puts it: "Consumers spend where they see trust, value, quality, innovation and ethics."

Indeed, the poor sales of some organic brands has nothing to do with pesticides and everything to do with packaging formats. Pouches (dominated by Ella's Kitchen, with a 74% market share) continue to prosper, with growth of 21.3%, while jars suffer value and volume decline of 7%. Although jars still account for close to two-thirds of the wet babyfoods market, the shift to pouches is causing a major headache for jar-oriented brands. Heinz Mum's Own, Cow & Gate, Plum and Organix have all suffered sales declines as the format struggles to hold on to consumers, resulting in Organix pulling out of the declining jars sector altogether.

One ray of light for Organix has been the performance of its tray offerings under the 'Mighty Meals' brand. Flagged last year as a key driver of the brand's growth, the range has grown value sales by 380% in the past year and generated 10% incremental category growth in ambient trays, according to Nick Turner, sales controller at Organix.

Over in the pot format, Heinz has performed well. The launch of two new flavours of dessert pots this year has helped deliver a £1.4m uplift to the core Heinz brand, which is the fastest-growing of the top 10 wet babyfoods.

On the surface, baby snacks is the strongest-performing sector, having delivered double-digit value growth. However, volumes are declining, something Nielsen senior client manager Mark Waling attributes to a shift away from denser products in favour of lighter ones. "While there is strong value and volume growth across the 'healthier' sectors of savoury snacks, cereal bars and rice cakes, there have been strong volume declines in the 'heaviest' sectors of rusks and fruit snacks," he says.

Organix, which dominates the snack sector with a 60% share, has increased value sales in both its standard and Goodies ranges - although in both cases volumes have slipped. The brand, says Waling, has focused more on savoury snacks and bars in the past year, as well as increasing distribution for its raisins and corn snacks multipacks.

For the second year running, the sub-sector's star performer has been Heinz Biscotti. It is the only top-five brand to have grown both value and volume sales, and has done so in style, increasing volumes by a quarter thanks to strong distribution gains across its banana, apple and chocolate variants. And Waling points to Kiddylicious - with value and volume growth of 72.5% and 48.5%, respectively - as one to watch.

The baby juice category has continued to decline in value, although at a slower rate than last year, and with own label wholly responsible for the decline. Volumes, however, have fallen for both own label and the brands, something Waling attributes to a switch to smaller formats and "pressure on baby juice from adjacent categories seeing retailers rationalise their ranges".

Heinz dominates the market and is in strong value growth of 20.4%, thanks in part to launches of small format bottles and smoothies - which explains why volume sales have grown less dramatically. Organix, still a relatively small player in juice, has also gained considerable ground in the past year, doubling value and volume sales.

In baby milk formula, value growth has been more pronounced than last year despite a small decline in volume sales. In value terms, the top seven brands sit at the same ranks as last year, although SMA's First Infant milk and Follow-on milk have both posted double-digit volume losses and its Extra Hungry milk has fallen out of the top 10 altogether. Only SMA's toddler milk, in 12th spot, has avoided volume decline.

Market growth is being driven by Aptamil, the market's premium brand, which has four brands in the top 10, collectively accounting for more than half of value growth.
TOP LANCH 2012
Fuss Pots Annabel Karmel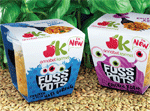 Fuss Pots is Annabel Karmel's rst range of microwaveable meals aimed at kids aged between four and 12. Launched exclusively in Sainsbury's in September, the pots come in four 'world' avours - including chicken 'n' Rice Nasi Goreng and Spaghetti Bolognese - and are based on recipes from the nutrition expert's bestselling books. According to Sainsbury's meal solutions buyer Cristina Proietti, Fuss Pots "bring something completely new to the category, with excellent shelf stand-out".