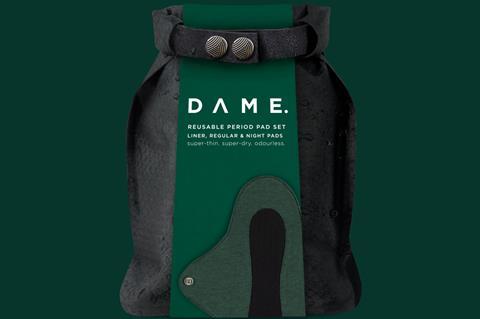 Sustainable sanitary products startup Dame has unveiled a range of reusable period pads.
The supplier, which launched what it claimed was the first reusable tampon applicator into Waitrose and Boots last year, claims using one reusable pad could save up to 2,000 plastic disposables.
"The sheer volume of plastic in disposable pads is enough to warrant a rethink," said Dame co-founder Alec Mills. "But when our community told us wearing them often felt like wearing nappies, and current reusables look like kids' pyjamas, we thought we could do better".
It has created a three-strong range – Liner, Regular and Night. Each pad will come with a 'dry bag' – a roll-top odour-tight, water-tight and air-tight carry case, which Dame said doubled up as a rinsing station as users can add water to soak the pads before putting them in the washing machine.
They have launched online, with a retail debut expected for February or March next year, the brand said (rsp: £8.99-32.99).
The development and launch of the pads was financially backed by government incubator scheme Innovate UK.
It said "intensive conversations" with its community of customers and Kickstarter supporters revealed common problems with disposable pads, including bulkiness, wetness, scratchy plastic, nappy-like rustling and odours.
It billed its range "the most unique reusable pad to date", with features including super-fast wicking. It said the lineup was naturally soft, highly absorbent, water-tight, thin & secure and stain & odour proof.
"If something's going to be worn for seven years over a lifetime, we think it should be soft, thin and feel invisible," added Mills.