Suppliers of branded medicines have a headache no tablet can cure, caused by the growing reluctance of cash-strapped consumers to pay a premium for brands. Own label has strongly outperformed brands in each of the five OTC sub-categories in the past year, continuing a trend from 2011 when more consumers turned to unbranded alternatives.

The shift was most pronounced in cold and flu remedies, a sub-category already suffering as a result of the mild winter of 2011/12. Own label grew 11.5% against an overall 2% decline in value, with the two brand leaders - Lemsip and Beechams - both seeing sales slip.

Where brands have been growing, they've been stealing share from rival brands rather than own label. In the largest sub-category, adult oral analgesics, brand leaders Nurofen and Solpadeine both delivered sales increases amidst an overall decline in branded sales. In paediatric analgesics, meanwhile, McNeil's Calprofen scored double-digit growth as larger rivals Calpol and Nurofen declined.

Gaviscon strengthened its position as market leader in gastric indigestion remedies, while the only sub-category to deliver both value and volume growth has been allergy remedies, which was boosted by the belated sunny weather in August and September.
TOP LAUNCH 2012
ManFlu Lozzers Health & Wellbeing Brands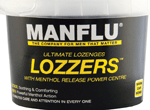 Health & Wellbeing Brands optimistically suggests its ManFlu Lozzers will appeal to women wanting to 'look after him and show him you care'. Even if the product is more likely to appeal to women wanting to stop him whining about a made-up ailment, it's hard to fault the marketing behind ManFlu Lozzers, for which the brand owner is currently seeking listings. The Lozzers have a lemon, lime & honey coating with a menthol-release centre and are described as ideal for 'work, desk and car'.