Forget Hollywood smiles. Today it's all about the Brentwood smile: the bleached white teeth popularised by the cast of TOWIE, Brentwood's top topless model-cum-vegan bodybuilder Jodie Marsh, and X-Factor runner up Rylan, born just down the road in Stanford-le-Hope.

Not everyone wants a rictus as radiant as Rylan's, of course, but white is clearly in. "A white smile is no longer only for celebs, it's a sign of health," says P&G sales director Ian Morley. "Oral health is increasingly looked at through a beauty lens. Shoppers want to invest in the right products to protect them."

That's why oral care is outperforming the wider personal care & toiletries category, down 2.1% to £5.8bn on volumes down 1.2% [Kantar Worldpanel 52 w/e 17 July 2016]. Toothbrush sales have surged 8.6% on volumes up 6.2%, thanks chiefly to the growing popularity of electric devices. Mouthwash is up 1.2% on volumes up 1.6%. Toothpaste may have dipped 0.2% on volumes down 0.7% but, crucially, average prices are up in defiance of the deflation in the wider category.

So how much of oral care's growth is down to the Essex effect? What can other parts of the personal care category learn from this sector? And what other fashion trends are impacting personal care sales performances?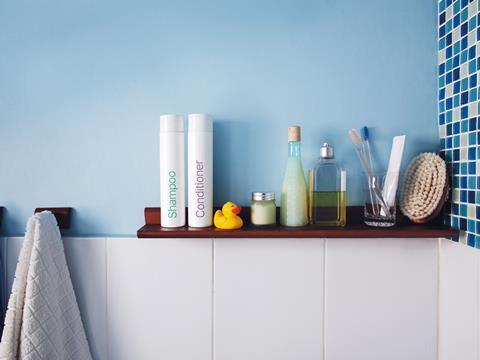 Toiletries & personal care continues to underperform, with value down 2.1%, a loss of £125m. That's an acceleration from the 1% drop of a year ago.
Average pack prices have fallen - particularly in hair colourants, razors and washing & bathing - and shoppers are buying fewer packs less often.
While shoppers are spending less, overall volume sales, down 1.2%, haven't seen quite as fast a decline thanks to a rise in shopper numbers.
But it hasn't been a total washout. Oralcare is storming ahead in value and volume. The growth of mouthwash is driven by the health of market leader Listerine. In toothbrushes, Sonicare has increased purchase frequency and driven average prices up.
Skincare is in modest growth; more shopping trips feature facial skincare than a year ago. Sales have been boosted by innovative formats such as micellar water and higher prices in medicated facial skincare.
The two biggest causes of decline are razors and hair colourants, in part due to lower prices. The main barrier to purchase seems to be shopper disengagement. The beard trend is significant here.
Caroline Cookson, Kantar Worldpanel
Shoppers have been convinced that for whiter teeth you have to pay. The average price of toothpaste is up 3.6%, according to till roll data from IRI [52 w/e 3 September 2016]. Star performer is Sensodyne, selling for nearly twice the market average. Oral-B is also up, thanks partly to its pricier Pro Expert and 3D White Luxe lines.
"In the dental category we see brands that are fit for purpose, meeting consumer needs and occasions, be it a focus on healthy gums, brilliant white teeth and now those that claim to neutralise sugar," says Richard Taylor, MD of branding agency Brandon. "We see good, better and best and then, within that, products that go across the need states of consumers."

Health

So it's not just about the dazzling smiles of Rylan and friends. As Sensodyne's performance shows, shoppers want products that address health-related needs, such as sensitive teeth or attaining a deeper clean. For example, Sensodyne is backing its new 'advanced cleaning' Deep Clean Gel - its first NPD in 15 years - with a £500k media spend between now and Christmas.

Toothpaste's number four brand, Aquafresh, is also shouting about the intensity of the clean it gives, claiming its upper tier Intense Clean toothpaste comes with 'double the cleaning performance'. Nevertheless, the brand has suffered the sector's greatest loss, of £3.6m, as shoppers have switched to pricier products such as GSK stablemate Sensodyne. "More shoppers are trading up to premium products that will help better maintain healthy gums and teeth, but also offer aesthetic properties such as tooth whitening," says GSK's channel director Jo Cooper.

By championing such credentials, mults can distinguish themselves from the discounters. "It's never been more important to shout about new news to create a point of difference versus the discounters, which operate with less noise in store," says P&G's Morley. "It allows the creation of an exciting shopper mission so they never know what they're going to get in the way of innovation."
Unilever's Sure for Men set about creating that exciting shopper mission with the March launch of a limited-edition antiperspirant range in partnership with the Williams Formula 1 team. The launch was supported with Grand Prix themed instore activity in July, including freestanding displays and posters. Sure is one of only three top 10 deodorant brands in growth, with value sales up 2.1% to £115.2m. Volumes are up 15.3% [IRI], suggesting deodorants are particularly price sensitive. Overall, deodorant is down 4.2% to £489.9m, on volumes down 2.7% [Kantar].
BRANDS VS OWN LABEL
Kantar: 52 w/e 17 July 2016
Value
Volume
£m
y-o-y%
packs (m)
y-o-y%
Branded
4878.3
-3.0
2209.6
-1.9
Own label
963.3
2.5
640.1
1.0
Total Category
5841.6
-2.1
2849.8
-1.2
RETAIL SHARE
Kantar: 52 w/e 17 July 2016
Trading
Value
Retailers
Grocery
Category
Index
y-o-y%
Superdrug
0.4
7.2
1,800.0
-0.6
Boots
1.7
24.0
1,411.8
-1.4
Wilkinson
0.9
4.5
500.0
8.0
Bargain Stores
2.4
4.6
191.7
1.9
Tesco
24.4
22.4
91.8
-3.7
Asda
13.5
10.3
76.3
-7.8
Sainsbury's
13.9
11.0
79.1
-3.1
Morrisons
9.6
5.8
60.4
-6.0
Aldi
4.7
1.4
29.8
15.8
Waitrose
4.7
1.3
27.7
-6.4
Lidl
3.5
0.9
25.7
12.9
TAKE HOME SHARE
Kantar: 52 w/e 17 July 2016
Value
Volume
£m
y-o-y%
packs (m)
y-o-y%
Total Skincare
1260.2
0.8
401.5
0.1
Deodorants
489.9
-4.2
307.4
-2.7
Bath & Shower Products
443.6
-4.4
338.0
-1.2
Shampoo
418.5
-3.6
195.1
-4.2
Toothpastes
372.2
-0.2
240.3
-0.7
Razor Blades
295.3
-8.1
56.9
-7.1
Hair Colourants
265.6
-7.8
56.5
-6.4
Toothbrushes
331.7
8.6
91.9
6.2
Hair Conditioners
262.7
-5.6
118.1
-4.8
Feminine Care
222.4
-1.5
158.3
0.4
Mouthwashes
216.1
1.2
109.0
1.6
Total Category
5841.6
-2.1
2849.8
-1.2
Skincare

When it comes to skincare, prices are also down, thanks in part to the ascendance of the Boots No7 range and the lowering of prices by many to compete (Simple and Nivea's prices are down 7.1% and 12.9% respectively). "Anything at over a fiver is given more thought by consumers," says Brandon's Taylor. "We need more own-label brands approaching the category, as Boots originally did with No7."

Meanwhile, P&G claims more are willing to spend £20+ on skincare (it's worth noting Olay's average price is up 10.1%). Olay has worked with the Good Housekeeping Institute to validate the performance of its Olay Regenerist 3 point age-defying night cream (rsp: £29.99), proving it works better than the top 10 bestselling £100+ creams. It's now promoting the findings in TV ads.
Oral B Genius 9000
Launched: July 2016 
Manufacturer: Procter & Gamble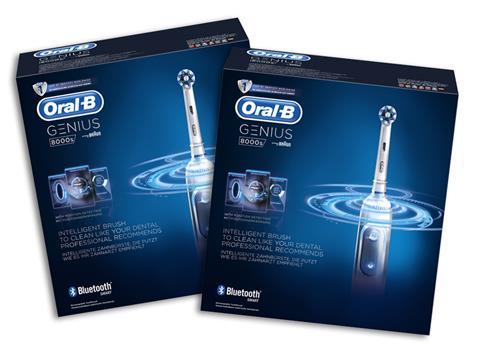 For people who'll pay through the nose for a whiter than white smile, this is as hi-tech as oralcare gets. P&G says the Genius 9000 (rsp: £139.99) is the world's first facial recognition toothbrush: not only does it speak to your smartphone via an app and present a virtual reality representation of your teeth that turns white as you brush, it has a sensor to warn if you're pressing too hard and an oscillating head just like they have at the dentist's. The only thing it doesn't do is book your next appointment.
Organic Foaming Handwash
Launched: September 2016
Manufacturer: Hipp UK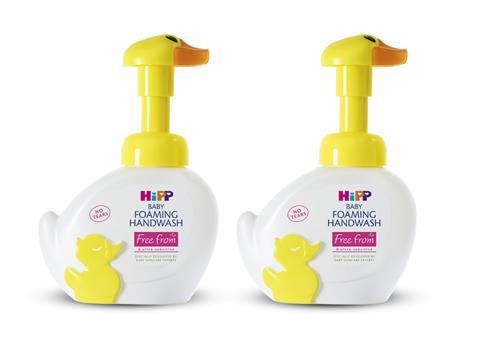 Free-from babyfood brand Hipp Organic has moved into personal care with this five-strong baby skincare range. Tapping the £142m children's toiletries sector, the range includes foaming handwash (rsp: £3.49/250ml), which comes in a bright yellow duck-style dispenser for on-shelf standout. Refills have an rsp of £1.99.
Sensodyne Deep Clean Gel
Launched: September 2016
Manufacturer: GSK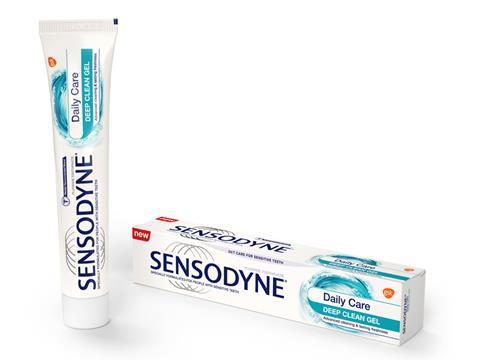 Sensodyne's first NPD in 15 years is Deep Clean Gel (rsp: £3.49/75ml). Engineered to give 'advanced cleaning and lasting freshness' and designed to encourage shoppers to trade up, the launch is supported by a £500k media campaign between September and December, including digital, press and sampling activity.
Sure Antibacterial Odour Protection
Launched: January 2016
Manufacturer: Unilever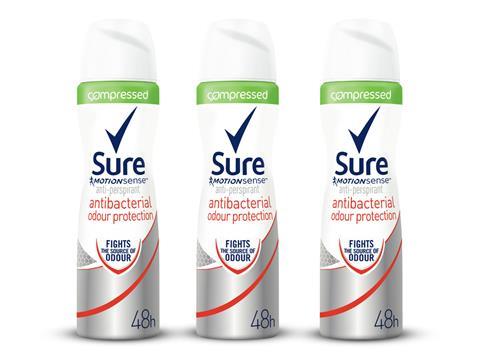 A market first, says Unilever: antiperspirant deodorant that reduces 90% of odour-causing bacteria. The Sure Antibacterial Odour Protection range (from £1.99/50ml roll-on and £2.39/75ml compressed) comes in two formats - one for men and one for women - and has been supported with a £4m campaign including TV ads.
BATH, SHOWER & SHAMPOO BESTSELLERS
IRI: 52w/e 3 Sept 2016
Value
Volume
£m
y-o-y%
litres (m)
y-o-y%
Radox
£67.7
-8.0
23.2
1.2
Dove
£60.1
-0.5
12.0
10.1
Head & Shoulders
£55.3
-5.2
6.6
-2.5
Imperial Leather
£50.0
-11.0
13.5
-14.9
Elvive
£46.6
-4.3
7.3
-3.7
Own Label Bath/Shower
£37.6
-9.9
20.7
-6.6
Sanex
£34.4
-0.4
8.4
-4.5
Batiste
£30.8
4.3
2.4
6.4
Tresemme
£30.7
4.4
8.4
9.0
Herbal Essences
£28.7
-14.0
4.9
-14.4
WOMENS SKINCARE BESTSELLERS
IRI: 52w/e 3 Sept 2016
Value
Volume
£m
y-o-y%
litres (m)
y-o-y%
Simple
£76.2
-1.3
2.4
6.3
Olay
£66.3
-7.0
0.8
-15.5
L'oreal
£65.7
1.1
0.7
-3.2
Own Label
£59.3
-2.8
2.3
1.7
Nivea
£54.5
-2.5
1.3
11.9
TOOTHPASTE BESTSELLERS
IRI: 52w/e 3 Sept 2016
Value
Volume
£m
y-o-y%
litres (m)
y-o-y%
Colgate
£200.7
-0.3
10.5
-2.6
Sensodyne
£87.7
9.5
2.1
8.8
Oral B
£51.8
4.2
2.0
0.7
Aquafresh
£26.9
-11.9
1.6
-15.9
Arm & Hammer
£9.9
-5.7
0.4
-7.9
Marketing and NPD will be crucial if brands are to win back share. What's more, some suggest skincare will be a growing focus for the discounters, pointing to Aldi Australia's products containing 'cells of an Alpine flower that survived the Ice Age'. Retailing at under AUD20, many expect the Lacura Icellage range, which reflects the vogue for 'natural' ingredients, to make it over here.
Just as oral and skincare have benefitted from fashion trends (white teeth, 'natural' ingredients), the sectors in sharpest decline have been hit by them. "The main barrier to purchase for razors and hair colourants is shopper disengagement," says Kantar analyst Caroline Cookson. "The beard trend and a lack of successful NPD in hair colourants since the spike in red hair dye created by Cheryl Cole in 2010 means fewer reasons for consumers to buy these products."

Of course, there's another part of Rylan's look that's as yet untapped: fake tan. Could Oompa Loompa orange be the new white?