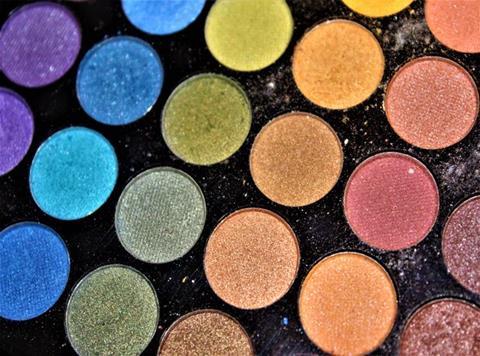 Sainsbury's recently made a splash with its plans to push hard into the UK beauty market.
But it's far from the only grocer to invest in its beauty offering.
Most of the major mults are revamping their beauty ranges, and listing new - and often considerably more premium - products than they would have done in the past.
Our analysis of Brand View data shows that, despite range rationalisation in other categories, the big four have added hundreds of SKUs in beauty and personal care since 2016.
So what is it about the beauty and premium personal care market that's proving so attractive to supermarkets?
In a nutshell, it's because:
Beauty is outpacing personal care in terms of growth
It's a category where stores still really matter
At the same time, there's a big e-commerce opportunity…
…which has so far proved (largely) Amazon-proof
It offers lots of scope for differentiation
The crisis on the high street means there's an opportunity to pick up market share
Let's take a look at each of those in more detail.
A compelling growth story
Beauty sales are soaring.
The UK beauty market will grow by 17.2% over the next five years, predicts Mintel, reaching £6bn by 2022. At the same time, the personal care market – think supermarket staples like deodorant and shower gel – will grow by just 1.6%, to £5bn.
Beauty growth is being driven by new product trends and innovation; strong demand for so-called prestige products (ie luxury beauty lines); and consumer willingness to trade up to get hold of the latest beauty must-haves.
While personal care is premiumising too (as we set out in our latest toiletries category report) shoppers remain value-conscious when buying everyday toiletries, limiting the potential for value growth.
"The polarised performance of these two sectors means that the beauty sector is a far more attractive prospect for UK retailers," says Mintel senior retail analyst Samantha Dover.
"As result, a greater focus on supermarket beauty ranges was perhaps inevitable as retailers look to reduce their reliance on an underperforming personal care category."
Making the most of store capacity
Physical retail continues to be hugely important in beauty.
In 2017, 90% of all beauty and personal care retail sales in the UK were store-based, according to Euromonitor.
"Female shoppers overwhelmingly want to see, touch and feel products before buying them," explains research analyst Maxine Vogt.
For supermarkets faced with excess store space, beauty therefore presents an obvious opportunity to reinvent superstores, maximise the use of space and drive footfall.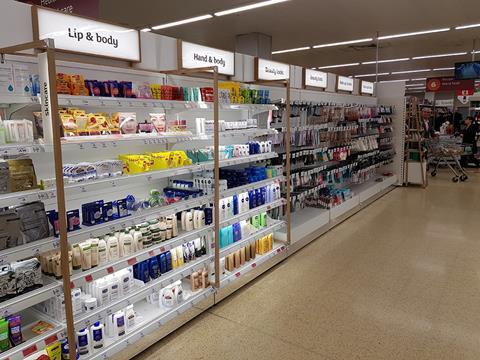 Emerging online opportunities
While physical retail still dominates beauty, online is growing fast.
In its half-year results to 3 March, Debenhams reported a 16% rise in online beauty sales compared with a 1% rise in sales through its beauty halls. Euromonitor says online was the fastest-growing beauty channel in 2017, with a growth rate of 8%.
At the same time, a new breed of online pure players, such as Cult Beauty and Beautymart as well as subscription boxes such as Birchbox, are disrupting the market and gaining share.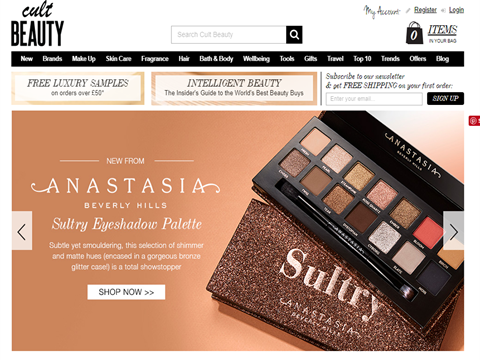 This trend is set to accelerate further with the arrival of new digital technology that helps online beauty shoppers feel more confident about buying products without trying them out in real life. Key examples already in the market include Glossier's shade finder and ModiFace, the augmented reality make-up and skincare 'try on' tool acquired by L'Oréal in March 2018.
For grocery retailers, the immediate opportunities around online beauty are twofold:
They can offer a much wider range of products online than is feasible in-store - and target different sets of shoppers as a result. Morrisons is a good example of this strategy in action. More on this below.
Beauty products, particularly at the premium end, can drive up online basket size , thereby supporting the profitability of grocery e-commerce operations.
Limited disruption from Amazon (to date)
No one in e-commerce would ever discount Amazon, but so far beauty has been largely protected from disruption by the online giant.
"Amazon hasn't made its mark in beauty yet," says Natalie Berg, retail analyst and founder of NBK Retail.
"For all its perks, shopping on Amazon is functional; it's transactional; it's about convenience and speed. They don't connect with shoppers on an emotional level."
Amazon is clearly trying to change this. Earlier this summer, it launched a dedicated shop for indie beauty brands on its US site.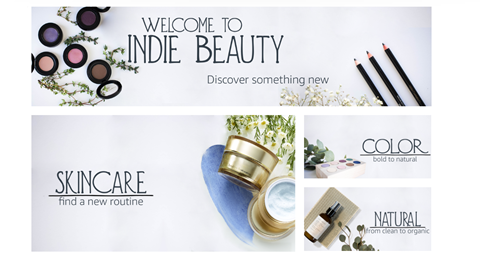 It has also started courting beauty brands by creating separate sections on its site for luxury and professional brands, which require a special application process to be listed. Crucially, brands in these special 'gated' sections can stop third-party sellers from selling their products elsewhere on Amazon.
Following these moves, luxury beauty sales on Amazon increased by 57% year on year, reports Forbes, citing data from One Click Retail.
Expect more activity in this vein as Amazon tries to close the gap and capture a bigger share of the beauty market.
For the time being, however, beauty remains one of a few categories where retailers don't currently have Amazon breathing down their necks.
Great scope for differentiation
Retailers are increasingly looking to differentiate their ranges by stocking exciting, innovative new brands that shoppers can't find anywhere else.
Beauty presents another opportunity to do just that.
Just as food & drink startups have been shaking up the look and feel of supermarkets' grocery aisles, so are small, independent beauty brands redefining beauty ranges.
The boom in natural, organic and vegan beauty, in particular, has opened up the market to disruptor brands, as shoppers are willing to forego big-name brands in favour of smaller names with strong ethical and sustainability credentials.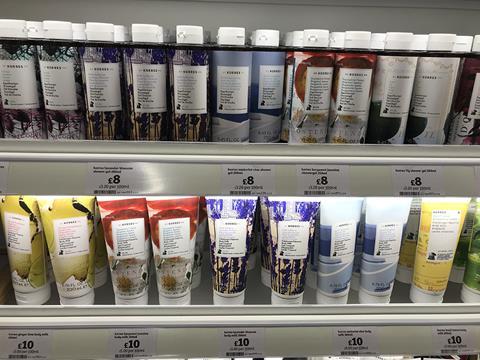 That's why the beauty aisles in Sainsbury's new trial stores are filled with wares from the likes of Natura Siberica, Urban Veda, Korres, Faith In Nature, Bloom & Blossom and Weleda.
Similarly, the growing trend around Korean and Japanese beauty offers opportunities for supermarkets to stock unusual, colourful brands and products shoppers won't have come across elsewhere.
See Asda's recent listing of K-beauty inspired brand Sugu Beauty for an example of this.
Opportunities from the high street crisis
Supermarkets accounted for 29.7% of UK consumer spend on beauty and personal care products in 2017, according to Mintel.
With high street retailers like House of Fraser hit by crisis, there could be an opportunity for supermarkets to grow their share by picking up business from department stores.
Not that this would be an easy task.
As retailers like Debenhams and John Lewis look to emerge from the high street slump, beauty is an increasingly important focus for them. Debenhams' new 'store of the future' in Watford is a case in point.
Boots and Superdrug aren't standing still either.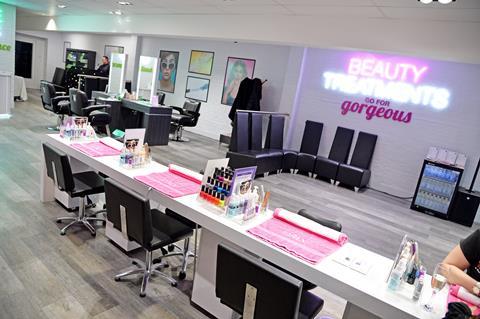 On the back of the success of its Revolution own-label make-up range, Superdrug recently launched a new, make-up focused store concept, while its new store at Fosse Park, Leicester, features a Beauty Studio offering a range of beauty treatments.
Despite such initiatives, Bryan Roberts, global insights director at TCC Global, sees a clear opportunity for supermarkets like Sainsbury's.
"I'm not sure that department store closures will have freed up much market share, but what JS is doing is exploiting the preference of shoppers to minimise trips," he says. "The ability to shop specialist beauty lines alongside grocery is fairly compelling."
Vogt agrees a push into beauty makes sense even if supermarkets ultimately won't out-do the likes of Superdrug or Boots.
"Sainsbury's strategy is more to increase footfall and ultimately boost grocery sales rather than compete with drugstores," she says.
Key challenges
The opportunities in beauty are clear - but how well placed are supermarkets like Sainsbury's to take advantage of them? And what challenges might they face in becoming credible beauty destinations?
Haven't we been here before?
After all, this isn't the first time supermarkets have tried to reinvent large stores with beauty offerings.
In 2011, Tesco opened beauty salons in 70 stores under the Your Beauty Salon brand, offering services like eyebrow threading and nail treatments.
It also opened in-store beauty halls in several stores, featuring higher-end beauty brands such as St Tropez, Korres, Tisserand and Steamcream.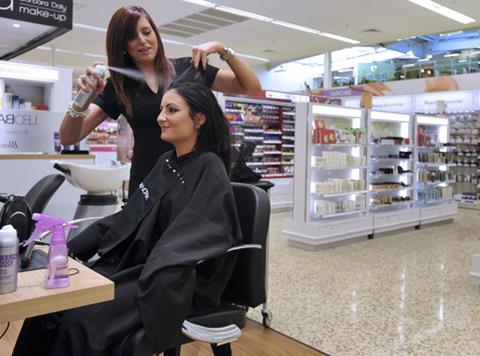 Seven years on, such initiatives have gone quiet. Although Tesco still has larger stores with premium beauty offerings, including from brands like Pacifica, it is no longer promoting its beauty range as it once did.
Its 'Beauty at Tesco' YouTube channel, set up to promote beauty content using influencers, hasn't posted new videos since 2016. Other social media channels created around its beauty offering at the time are similarly dead.
So what will Sainsbury's - and others looking to follow its lead - need to do to have lasting impact on the beauty market?
Range
It starts with range. A premium beauty offering stands and falls with the brands on offer.
"Research shows that, after low prices, brand selection is the most important factor to UK consumers when deciding where to shop for beauty and personal care products," says Dover at Mintel.
"As a result, developing a differentiated and compelling range of brands is hugely important."
The proliferation of new disruptor brands in the beauty market should make this easier than it would perhaps have been in the past, but supermarkets can still face some resistance from prestige brands when it comes to listings.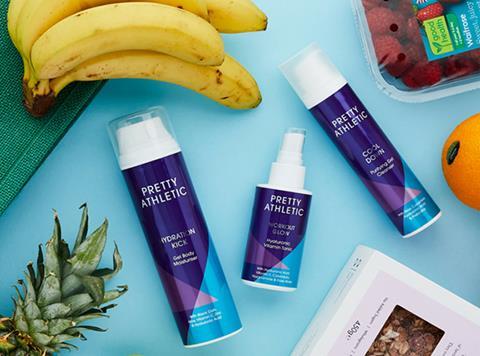 "Premium/luxury brands are still considering supermarket listings being beneath them as it doesn't reflect a premium shopping experience," says Vogt at Euromonitor.
This is becoming less of an issue, however, as supermarkets are reinventing their in-store experience.
"Some big brands still feel that their brand equity would not be appropriately stewarded by grocers, while others are happy to be in high-traffic locations in the enhanced supermarket environment," says Roberts at TCC Global. "The line between supermarket and department store is become less and less distinct."
He adds that Sainsbury's has form in building up credibility in specialist areas.
"The retailer has proven with Tu and with homewares that it is capable of establishing credibility and authority in specialist ranges and beauty should be no exception. The offer should be more than capable of holding its own against the likes of Boots and Superdrug."
In-store experience
The odds are stacked in favour of physical retail when it comes to beauty, but store space alone is not enough.
Beauty brands and retailers are increasingly embracing experiential retail, using digital technologies and personal experiences, such as makeover sessions and beauty treatments, to engage with shoppers in ways only possible in physical stores.
Examples of this are often found in travel retail and include the interactive OPI nail bar shown below, which allows shoppers to see what different shades of nail polish would look like on their own hands.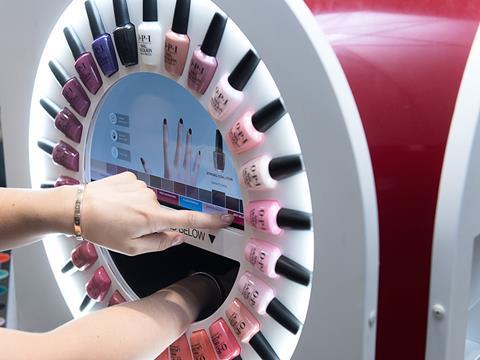 However, department stores are catching on fast. High-end beauty retailer Sephora has long been recognised for its elaborate in-store experiences. In the UK, Debenhams recently unveiled its 'Beauty Hall of the Future' concept, which integrates bricks-and-mortar retail with digital technology as well as events and services.
Euromonitor calls these kinds of initiatives "phygital" retail. "Online and offline are blending together, reinforcing the role of the store," it says.
In light of such competition, supermarkets may have to rethink their stores more dramatically than simply adding new fixtures and bigger beauty ranges.
"Consumer expectations are heightening and if the supermarkets are to truly compete in the beauty sector, they will need to match the kind of experience that these stores are offering," says Dover at Mintel.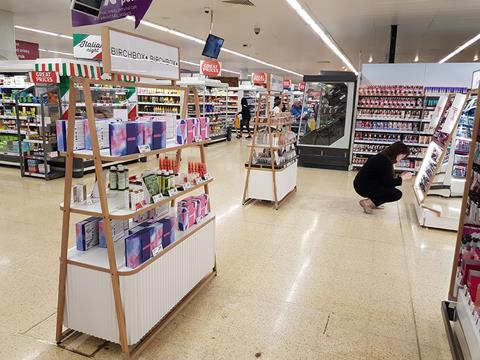 Potential friction between special beauty areas and the look and feel of the wider store could also be an issue.
Where beauty areas are located in the middle of the store, as shown above at Sainsbury's Purley Way, shoppers face a potentially jarring transition from high-end beauty to everyday groceries.
However, Mark Howell, creative director at retail design agency Play, believes that's not a major concern.
"Shoppers on specific missions are quite happy to navigate the store and go directly to the sections that are relevant to them."
Expert staff
Having knowledgeable staff available to assist shoppers will also be key.
As part of its trial, Sainsbury's is deploying specially trained sales assistants to help customers navigate its new beauty offering.
Research suggests this is a wise investment. A survey by Mintel found that 54% of UK consumers find the choice of beauty and personal care products available overwhelming. This highlights "an underlying demand for advice" says Dover.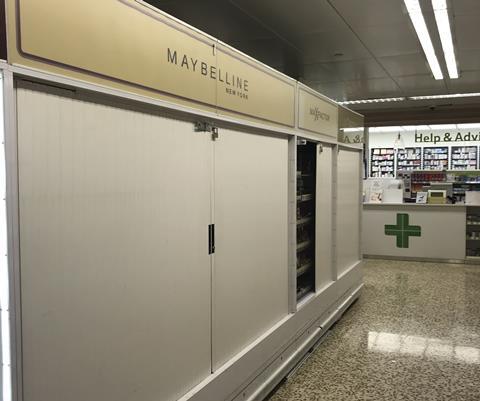 Roberts at TCC Global also stresses the importance of staff.
"Supermarkets benefit from having dedicated staff for beauty counters and displays, as this enables enhanced customer service as much as discouraging shrink – avoiding the horrors of locked cabinets or displays with permanently rolled-down shutters."
Online engagement
As supermarkets look to build their credibility in beauty, strong online content and engagement are important.
Beauty specialists like Space NK and Cult Beauty, as well as a growing number of high street retailers like Debenhams, are investing heavily in beauty-focused communities and relevant content.
Supermarkets' own beauty content offerings, by comparison, often look rather sparse.
This is a missed opportunity, believes Viv Craske, MD of MySupermarket.
"Boots and Superdrug have made some headway in inspiring beauty shoppers online with increased content on product pages, but traditional retail – or Amazon – has yet to capture the imagination of the Instagram generation to drive significant online sales. By bringing rich and inspiring content to beauty pages, they could test the market quickly and at lower cost."
Given the growing importance of influencers in the beauty world, targeted influencer campaigns are another key focus.
Supermarkets are already starting to recognise this.
For the relaunch of its Boutique own-label beauty range, for example, Sainsbury's has been working with a number of beauty influencers to spread the word (see above), focusing especially on the range's vegan and cruelty-free credentials.
Retailer strategies
Here's a quick overview of how the big four, plus Waitrose, Ocado and the discounters, are approaching beauty.
Sainsbury's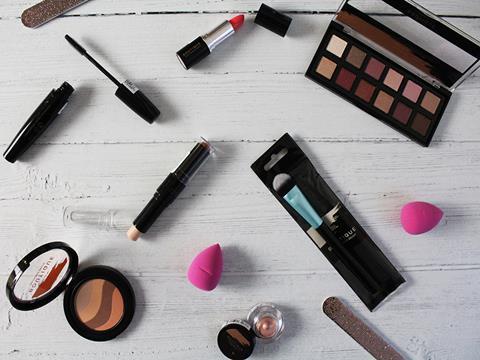 With its well-publicised beauty trial, Sainsbury's has reinvigorated the debate about beauty ranges in the supermarkets.
Trial stores, including this one we visited at Purley Way, are offering a wide range of make-up lines from the likes of Revlon, Maybelline and Rimmel as well as Sainsbury's own Boutique range, which also includes a full lineup of beauty tools.
In skincare, meanwhile, there's a heavy focus on natural and vegan lines, with key brands including:
A'Kin
Korres
L'Oréal Botanicals
Weleda
Bloom & Blossom
Crabtree & Evelyn
Love Beauty & Planet
Natura Siberica
Two stores are also trialling concessions from The Fragrance Shop.
Tesco
Tesco was the original beauty pioneer among the major supermarkets, launching a make-up range in collaboration with make-up artist Barbara Daly back in 1998.
It subsequently tried its hand at in-store beauty salons and beauty halls, but has since gone quiet on its beauty initiatives.
While some larger stores retain a sizeable premium beauty offering, including indie brands such as Pacifica, the beauty offering across its wider estate seems in transition, with in-store signange in some locations still advertising old ranges such as Skin Wisdom, a range developed for Tesco by 'holistic skincare guru' Bharti Vyas, which is no longer on sale.
View this post on Instagram
With nearly 30 products, its spa range, under the Calcot Manor name, remains an important part of the offering, while new brands recently added include Soaper Duper, a higher-end range of natural bath products that comes in bottles made from post-consumer recycled plastic.
Asda: all eyes on own label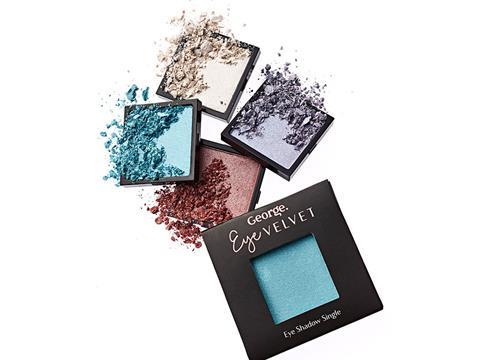 Own label is at the heart of Asda's beauty offering, both through its George brand of make-up and its Nspa range of skincare.
With more than 80 products, Nspa now comprises several sub-brands targeted at different shopper profiles, including Nspa Fruit Extracts (a range of cheap and cheerful fruit-themed lines such as mango shower gel for £3), Nspa Sacred Spa (featuring products such as Indulgent Jojoba and White Jasmine Body Butter for £2) and Nspa Expert, which includes a rejuvenating nightly repair cream for £10.
The 152 products in the George make-up range, meanwhile, include mascara for £3, concealer sticks for £2 and a contouring kit for £5.
It also stocks a range of mainstream beauty names, such as L'Oréal, Nivea, Garnier and Maybelline, and it's started adding some smaller and more specialist brands, including Korean-inspired masks from Sugu.
Morrisons: adding choice through e-commerce
In-store, Morrisons has one of the more basic beauty and personal care offerings, focused on staple brands such as Dove, Simple and Garnier.
Online, it's a very different story.
Over the past two years, the retailer has added more than 1,000 beauty and personal care SKUs to its range, many of them online exclusives provided through its e-commerce logistics partner Ocado.
Premium products now available through Morrisons Online include a Quinoa & Abyssinian Conditioner from A'kin for £18, organic liquid soap from Dr Bronner for £15 , and gender-neutral face wash from Samfarmer for £8.
Waitrose: going all-in on natural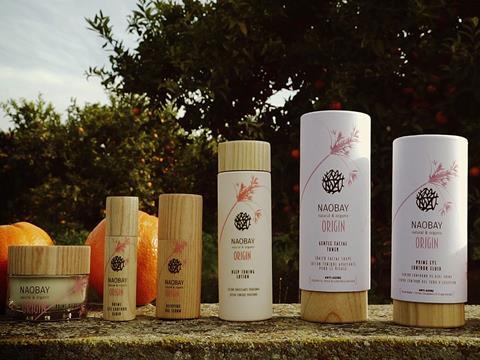 Waitrose is betting big on the natural beauty market.
The retailer says it now has an 87% share of the natural beauty market in supermarkets and, in response to growing shopper interest in naturally-derived ingredients, a third of its range is now natural or organic.
Key beauty brands on offer in Waitrose include:
Korres
Neal's Yard
Burt's Bees
Naobay
Previse
Avalon
Urban Veda
Amie
Its Pure own-label range was relaunched in late 2016 with a focus on natural ingredients.
"Natural beauty is an ever increasing area at Waitrose and we know it's something our customers look for when they shop for beauty with us," says beauty buyer Sarah Minness.
Natural within the male grooming category is also a growing focus, while Waitrose is also investing in the athleisure beauty trend with sports-focused brands such as Fit Kit, Rock Face and Pretty Athletic.
Ocado: teaming up with beauty experts
The e-commerce specialist is taking full advantage of the flexibility afforded by online to stock a range of thousands of beauty and skincare products.
"With the majority of baskets containing at least one beauty or personal care item this is a hugely important category for Ocado," says a spokeswoman.
"Products specifically formulated for vegans and those with sensitive skin are soaring in popularity with our customers. We're also seeing increased demand for natural and organic products across the Ocado range, with key suppliers such as Love Beauty & Planet and Little Soap enabling this growth within beauty and personal care."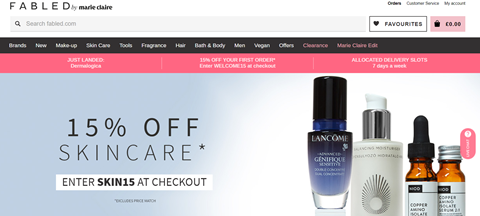 Ocado is also acquiring specialist expertise in the beauty market thanks to its partnership with women's magazine Marie Claire, which saw it launch premium online beauty store Fabled in 2016.
Orders through Fabled are fulfilled by Ocado, and customers can choose to have their Fabled delivery synced with their Ocado grocery delivery, so both arrive at the same time.
The Fabled online store launched a bricks and mortar location on London's Tottenham Court Road in August 2016.
Aldi & Lidl: cheap and cheerful 'dupes'
The German discounters cannot compete on range size, of course, but they, too are increasingly using beauty products to make an impact.
Aldi has been far ahead of Lidl in this regard, which has to date offered a relatively modest range of cosmetics and skincare under its Cien own brand, though its recent range of John Frieda lookalikes suggest this might be changing.
Aldi, on the other hand, has used its Lacura own label to generate plenty of column inches by launching cheaper 'lookalikes' of high-end beauty products.
View this post on Instagram
Recent examples include a Lacura version of Pixi's Glow Tonic (pictured above) and Glamglow masks as well as glycolic pads 'inspired' by Nip + Fab - a move that garned the discounter lots of attention among beauty fans on Instagram too.