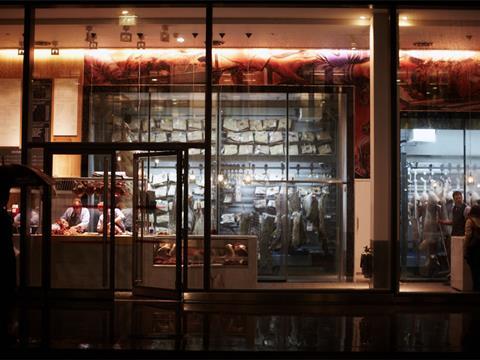 Black and blue is the only way to order a steak. It's also how Jamie Oliver must be feeling after taking another battering now that Barbecoa, his steak joint in Piccadilly, has gone down in flames, after racking up debts of £71m. It follows the closure of 12 Jamie's Italian restaurants in February (let's be kind and pretend the Union Jacks fiasco never happened).
It's not all bad news. The original branch of Barbecoa, in St Paul's, remains. And even though his net worth has fallen £90m from its 2014 peak of £240m he's still worth £150m and lives in a nice pad in Hampstead. Oh, and yes he gets "pretty miserable", he admitted in a media interview before Christmas, but only once a year.
Jamie has always divided opinion, too. For some he's a brilliantly engaging chef who has done more than almost anyone in recent years to encourage people to cook and eat well; has scored a number of massive public affairs victories; and whatever he says or does his heart is in the right place.
Fat-tongued annoyance
For others, he's a fat-tongued annoyance who has barely more talent than a decent home cook and struck it lucky by riding the wave of cookery shows in the 1990s before turning into a hectoring, hypocritical bore who lectures both the country and the politicians that run it over the evils of sugar while knocking it out by the tonne from one of his remaining restaurants.
But as his business empire has started to unravel, the critical faction is swelling. On Saturday, The Times ran a story about his right-hand-man and brother-in-law Paul Hunt, which cast a number of aspersions on his record in the City (banned for insider dealing, his last business went bust), his management style (an "incompetent bully", according to insiders), and his actions at Jamie's Italian, some dating back to 2014, on the fortunes of the chain.
Anyway, today it's all about Barbecoa, which always felt like a high-end extension for the Jamie brand. Early reviews weren't kind, not just because of the high prices – £18 for a prawn cocktail, £48 for a ribeye with sauce and chips – but worse, the quality of the food itself.
Jay Rayner was less than complimentary about the Piccadilly Barbecoa ("dense and relentless") or the original when it opened in 2011 ("if this restaurant opened in New York, its shortcomings would see it laughed out of town"). And Grace Dent wrote "Jamie, I adore you, but you wouldn't eat this food."
As the debts pile up, Oliver can always knock out another colourful cookbook (his latest, Five Ingredients, is another huge smash) or film another TV series.
'Do the right thing'
Small suppliers will be hit harder. The Jamie Oliver Restaurant Group reportedly owes £6.7m to creditors, including Natoora, a fresh fruit & vegetable supplier, which is owed £34,613. Daily Fish Supplies is owed £34,699, and a combined £31,516 is owed to wine suppliers Berry Bros & Rudd and Armit.
Naturally this week's trial of Jamie Oliver is taking place on Twitter. 'You are a decent man. Please honour your debt to @natoora. You personally can afford it. Do the right thing,' read one tweet.
And Rayner, apparently not Jamie's biggest fan, tweeted 'This is outrageous. So @jamieoliver are you going to make sure every single one of your suppliers is paid? The fish supplier? The fruit and veg supplier?'
The chances of Jamie Oliver dipping into his own pocket to pay for the failures of his business empire are as slim as a shaving of truffle, but he isn't the only one in trouble. Byron, Prezzo, Strada and Carluccio's have all experienced similar closures. But they don't have Oliver as the face of the brand, so things haven't got quite so personal. The harder they fall, it seems.
With hindsight, Oliver must be wondering why he bothered to get into the notoriously tricky restaurant game in the first place. Call it over-ambition, arrogance, or simply a lack of judgement, the cloak of invincibility he has worn has fallen, as his business interests have unravelled. Unfortunately it keeps losing him, and his suppliers, money. And Brand Jamie is, perhaps forever, tarnished.