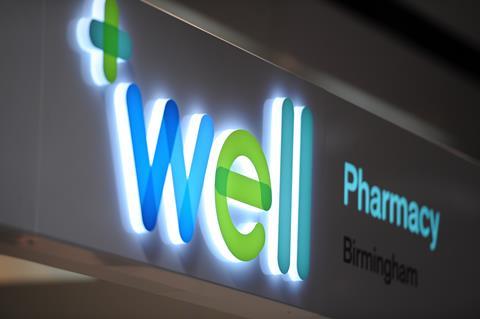 The Co-operative Pharmacy has been renamed Well Pharmacy by new owner Bestway.
The wholesaler, which acquired the 780-strong chain from The Co-operative Group for £620m last year, has also announced a £200m investment in the company to drive growth and create hundreds of jobs. Bestway said it planned to invest £40m a year over the next five years as part of a major recruitment and expansion drive. It also predicts annual sales will grow from £750m to £1bn in 2019.
John Nuttall, CEO of Well, said: "Community pharmacies can play a key role in easing the increasingly unsustainable pressures faced by frontline NHS services, beyond simply providing prescriptions. Ensuring more people make better use of the advice, services and products at Well, we can support the NHS in treating minor ailments and managing lifestyle health issues such as smoking and weight – relieving pressure on key NHS services.
"Bestway Group's major investment will not only create new jobs, it will also enable the business to develop the role of the pharmacy team to provide personalised healthcare and deliver an excellent patient experience, improving health and reducing health inequalities in local communities in the process. This is a very exciting time for the business, our employees and our customers, and ultimately our strategy will see us reach a place where local communities treat their local Pharmacy as a first 'port of call' in making the most of their health."
Zameer Choudrey, CEO of Bestway Group, added: "We are very pleased to announce and launch Well Pharmacy, and excited to begin rolling out the next chapter of this fantastic business' story. We are confident in the new branding that has been created and have no doubt that it has a bright future ahead.
"Moreover, we have pledged to give Well Pharmacy strong support by committing to invest £200m over the next 5 years to help develop and grow the business, and to make sure Well continues to serve its customers and local communities to the high standard the business has always delivered."