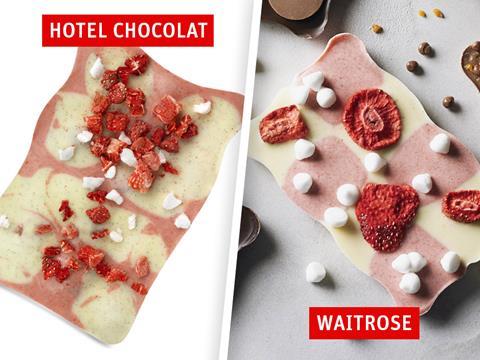 When Waitrose introduced its new chocolate bars with a full-page ad last week, the publicity wasn't the kind it hoped for. The same day, Friday 11 May, Hotel Chocolat founder Angus Thirlwell tweeted a picture of the ad accusing Waitrose of copying his chocolate slabs, and told The Grocer he had written to the supermarket demanding the new range be withdrawn.

Neither party has provided an update, with Waitrose still "looking into the points made" by Thirlwell. But what sort of case does Hotel Chocolat have? After all, if Nestlé is poised to lose EU-wide protection of its distinctive Kit Kat shape, what hope is there for a slab of by no means identical albeit similar chocolate? Isn't this what supermarket own-label ranges have been doing for years?

The difference between the cases, and their potential chances of success, lies in the basis of the claims, according to intellectual property lawyers.
Laws for brand owners 'very weak'
Mimicking by retailers, and particularly discounters, is a recurring problem for brands and there's "very little they can do about it", says John Noble, director of the British Brands Group.
"Passing off actions are brought and fail," he says, including one by Moroccanoil against Aldi in 2014. "The UK has really ineffective law and enforcement in this whole area and that is why the discounters can get away with it."
In the case of Hotel Chocolat, its designs are registered with the EU Intellectual Property Office. The protection Nestlé faces losing, on the other hand, is of an EU-wide three-dimensional trademark of its four-fingered Kit Kat biscuit.

A trademark can be of a name, design or shape but to be upheld in court must be linked in people's minds to the brand, according to Gina Lodge, managing associate solicitor at Marks & Clerk. It's a "brand ­signifier", she says.

John Coldham, partner at Gowling WLG, says Nestlé's trademark was too broad. "It was European and they didn't prove in every country people would recognise a four-fingered chocolate bar as a Kit Kat."

A design registration instead seeks to protect the "expression of an idea that makes it unique," says Coldham. So Hotel Chocolat could argue uniqueness lies in the curvy outline, textures and patterns shown in its design registrations, he adds.

The test for a court hinges not on association with a brand but on whether an alleged copy of the designs creates the same "overall impression".

"It's a woolly test that has been the subject of a lot of cases," Coldham adds. But it's a test courts are more willing to let claims pass, according to Lodge, who thinks Hotel Chocolat has a chance.

"Kit Kat has struggled to get a trademark because trademarks last forever," she says. "It's a perpetual monopoly right, so there are lots of considerations. Designs are granted for 25 years, so it's likely to be more straightforward for product shape.

"As far as I'm aware, it's certainly not widespread that other chocolate manufacturers are producing bars in this [curvy] shape, so it's arguably quite a distinctive thing."

But the two retailers' bars are not identical and the originality of Hotel Chocolat's may have to be established. "One important question is, when the design was applied for, were there other products out there that looked similar? If there were, your design is likely to have a narrow scope of protection, meaning infringing products would have to be fairly close."

Lodge thinks more brands may register designs in light of the row. But also that they should, as it's "quite cheap and quick", with fees from €230.

The process involves a "basic list of formal requirements" and takes as little as a week, says Richard Worthington, head of designs specialist practice group at Withers & Rogers.

Even without registering, protection can be won in court with a "passing off" action, if it's shown another person has adopted features of your design,says Lodge, though it's notoriously hard to enforce such actions.

Still, it's another argument Thirlwell may make, having last week told The Grocer: "The big risk for us is that people think we're making those bars."

The matter would be decided in UK courts, potentially including the Court of Appeal, but with "effect throughout the whole of the EU" he adds.

But with Waitrose owned by the John Lewis Partnership, and Hotel Chocolat's bars for sale in John Lewis, Worthington is also unsure it will go that far.

"Given the customer-supplier relationship it perhaps wouldn't be a surprise if they chose to go down the commercial settlement rather than the legal route," he says.