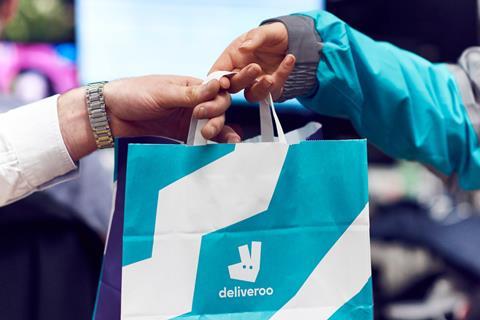 Deliveroo has been accused of "abandoning bicycle delivery" over a new policy of prioritising workers with motorised vehicles.

The change means car drivers, motorcyclists and scooter riders are likely to get first pickings of the delivery hours they work for the company, leaving fewer for cyclists.

Workers book their hours on Mondays for the following week using a Deliveroo app, which accepts the bookings in three waves, at 11am, 3pm and 5pm.

A change to the app means that cyclists are more likely to be excluded from the first wave, at 11am, and pushed on to 3pm or even 5pm, by which time fewer hours are left to choose from, according to the Independent Workers Union of Great Britain.

Deliveroo has attributed the change to a need to improve choice for customers by delivering from restaurants further afield.

'You may have noticed that your self-service booking statistics now include a small priority for motorised vehicles,' the company said in an email to riders. 'With increasing customer demand for long-distance deliveries, this change will help to ensure that we have a good balance of bikes and motorised vehicles in order to service these orders…

'This change will add an additional priority consideration for scooters and cars.'

The IWGB staged a rider strike in Nottingham on 12 July, demanding Deliveroo reverse the policy change.

A spokesman for the union accused Deliveroo of abandoning cyclists, having developed "an eco-friendly PR image with the faces of cyclists plastered on marketing".

"Across the UK riders are losing their usual access to work with no time to prepare for loss of earnings and through no fault of their own," he said.

"Sustainable logistics and deliveries must be a priority for all companies as we confront a climate emergency."

A Deliveroo spokesman said: "Deliveroo is on a mission to ensure that everyone has access to amazing meals whenever and wherever they want them. To achieve this, we need to meet the growing customer demand and have added thousands more restaurants to our service. We have enabled consumers to order from restaurants from further afield, which means more longer-distance orders, and it is only possible to deliver these with the right fleet mix.

"We have made a small change to our online booking portal which will mean that, as we create even more work for riders across the UK, we will have enough vehicles capable of making the longer-distance orders that customers want."

He said the change meant that "all things being equal, a rider who uses a scooter would more likely be given priority than a rider on a bicycle when booking sessions in advance".

He added: "Deliveroo will always rely on pedal power and will continue to work with thousands of cyclists across the UK."

Earlier this month the Competition & Markets Authority intervened in an Amazon investment in Deliveroo, ordering the two companies to pause any integration. An initial enforcement order said there were grounds to suspect the two had 'ceased to be distinct' or that arrangements were in place that would cause them to no longer be distinct.