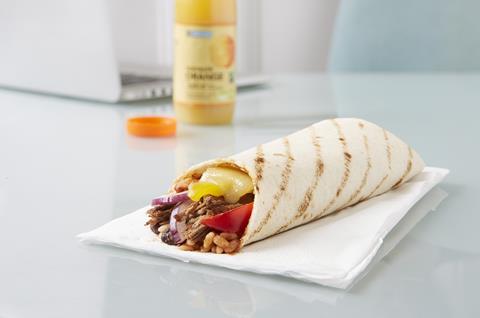 Sales at Greggs have increased 7% in 2016, aided by a strong finish to the year, with a particularly "strong" performance over Christmas. The high street food-to-go chain said in its pre-close trading update that the full-year results, with like-for-like growth of 4.2%, would be slightly ahead of previous expectations.
Sales over the Christmas period helped fourth quarter company-managed shop like-for-like sales to grow by 6.4%. Excluding the final two weeks of the year, fourth quarter like-for-like sales growth was 4.1%. Greggs said seasonal favourites such as the Festive Bake and traditional mince pies contributed to the performance, but added the main driver was the "growing strength" in food-on-the-go.
The 'Balanced Choice' bakes also proved popular, along with hot food options such as the new burritos. Greggs also announced plans to extend the hot drinks range to include vanilla latte alongside fair trade peppermint tea and green tea.
CEO Roger Whiteside said: "We finished 2016 well, delivering our 13th consecutive quarter of like-for-like sales growth, and anticipate that we will report full year results for 2016 slightly ahead of our previous expectations."
He warned that industry-wide cost pressures in 2017 would likely have a modest impact on margins in the short term.
"In the year ahead, whilst we will undoubtedly see a number of well-documented industry headwinds, we are confident we will continue to make progress with the implementation of our strategic plan, including significant investment in our capability to supply a growing shop estate."
However, he told journalists that Greggs was determined to avoid passing on to consumers additional costs from input inflation, the national living wage and the apprenticeship levy.
"Price movement is a last resort," Whiteside said. "We're fighting tooth and nail to continue to offer customers outstanding value as so there will be some pressure on margin to cope with that."
He said Greggs would look to mitigate additional costs through continued growth and investment in systems and its supply chain.
Greggs opened 145 new shops (including 56 franchised units) and closed 79 during the year, growing the estate to 1,764 sites at 31 December 2016. The business now has 157 franchised shops operated by partners in travel and other convenience locations. In 2016, it also converted a further 208 shops to the 'bakery food-on-the-go' format - and expects to refurbish shops at a similar rate in the year ahead.
Greggs also announced an extension of its delivery trials - currently in Newcastle - to locations in London. Whiteside said Greggs hoped to compete in the "toughest delivery market in the world" on the basis of freshness and value.
"We're late to this party," he said. "There has already been an explosion in the delivery sector and we believe Greggs can play a role in that channel."
He added that the delivery trail will purely be serviced by Greggs employees and the company would be likely to grow headcount in the area if it sees strong demand.
Shares in Greggs surged 3.6% higher to 1,037p on the back on the trading update.