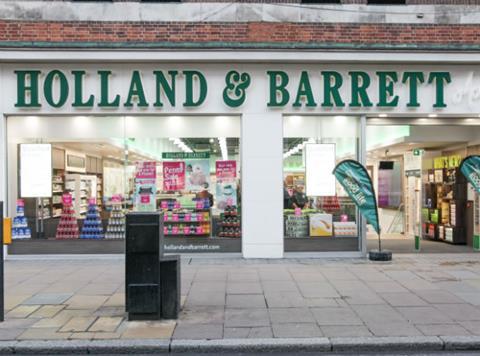 Holland & Barrett has launched a campaign to encourage more transparency in the beauty industry.

The £500k Cleaner Beauty initiative, which kicks off today (2 May) through print and online advertising, social media posts and in-store information, aims to inspire customers to question whether the beauty products they use may contain unnecessary chemical additives.

The online advert showcases the retailer's research which found that 95% of their customers believe people are as concerned about ingredients used in beauty products as in the food they eat. It shows models appearing to eat beauty products to highlight this.

H&B store windows will also display messages about cleaner beauty, supported by print and online advertising, as well as PR, social media and content campaigns across the brand's digital platforms.

Holland & Barrett said the campaign will illustrate its commitment to only selling products without parabens, which are usually used as a preservative, and foaming agent sodium lauryl sulphate (SLS), used in many mainstream beauty products. The specialist health retailer believes the chemicals are unnecessary and should therefore not be used. Its beauty range has been free of parabens, SLS and micro-plastic for more than nine years, with the retailer guaranteeing that all its 1,900 natural beauty products are free of these ingredients.

The 12-week initiative comes as H&B's natural beauty range has become the fastest-growing category in its 800 UK and Ireland-based stores.

Products featured in the campaign include Organic Pro Collagen Plus Dragons Blood, £18.99 for 50ml, and Holland & Barrett Jojoba Oil, £19.99 for 200ml, as well as the 100% natural lippy from Burt's Bees Sunset Cruise, £9.99 for 3.4g.

"This is a crucial campaign because of the damage these unnecessary ingredients do to the environment and people's skin," Holland & Barrett's CEO Peter Aldis told the Grocer. "We make up less than 1% of the beauty industry, but we're very big in the ethical beauty industry, so we've continued to try to expand on that."

Lucy Pottinger, H&B's head of beauty, added: "It's time for us to really stand up and educate consumers about the many chemical additives that can be hidden in their make-up bags or bathroom cabinets. By making this transparent to customers, we hope to encourage them to make more educated choices about what they buy with no compromise on product quality or efficacy."

Holland & Barrett's sales figures, reported earlier this week, revealed it had its ninth consecutive year of like-for-like sales growth. It also posted revenue growth of 7.1% in the year to September 30 to £656m, and like-for-like sales climbed 4.5% and online sales 23.6%. The retailer's pre-tax profit, however, fell from £115m to £72m because of exceptional costs relating to a subsidiary and higher finance expenses.