Hotel Chocolat has announced yet more positive results in the form of a 28% rise in pre-tax profits for the latest half-year of trading. CEO & co-founder Angus Thirlwell explains where he sees growth opportunities – and why Brexit won't bring him down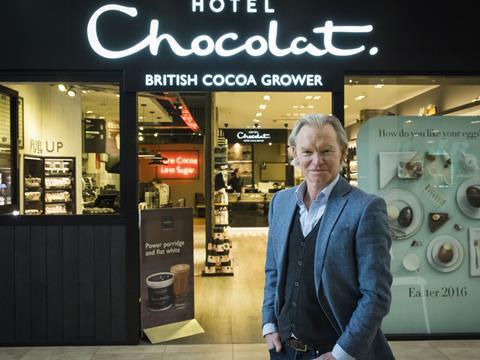 You opened 10 new stores from June to December, taking your total number of branches of 93. Are there plans to open more this year?

Yes indeed. We've secured an amazing site in Glasgow in the second-best retail street in the whole of Great Britain, so we're opening a large café and shop right in the middle of the city, which is one to really look forward to. We also have other sites under discussion. The café plus shop format is working and it has opened up a horizon of potential locations that could work for us in market towns and London suburbs. The pure chocolate shop format was good but locations were more restricted, and the café has added a whole new dimension to our retail space. What we're really seeing is a halo effect. Our existing customers are coming in more frequently and bringing friends, which is fantastic because they can browse innovations and new recipes and there is halo effect on sales. It also draws in a different type of person than the chocolate shop, so there is a double whammy.

That combination of a chocolate shop and a café is what makes our model unique. There are plenty of half-decent coffee shops out there but how many serve coffee that's been specially developed to go with chocolate? We also have our hot chocolate drinks and the lure of sampling our innovations as well.

Your online division performed particularly well, as overall digital revenues rose 11% - what factors influenced that?

One of the big drivers was product range. We had a new range of much better contemporary hampers and sales of those went up 80% over Christmas, so digital sales really benefited from that. The two chocolatier's tables, which are priced at £100 and £165, grew very very strongly over Christmas in digital as well. We've always had a higher basket spend online than in physical stores because our site has larger range of gifting options.

Subscriptions were the weakest part of your online division, down 6%. Is this still an important part of your business?

We've got a membership of 70,000 and that's such an important part of our business. It's such an integral part of our company and we're investing a lot in improving the experience. The tasting club is nearly 20 years old and we do improve it in stepping stones - we periodically improve all aspects including products, administration and the way you feel in the club, and we're in one of those periods at the moment. Top-line sales of our tasting club dipped 6% as part of a deliberate policy not to invest huge amounts in growing numbers when we're in the midst of improving customer experience. But when we decide to spend more money on recruitment we can easily pull a lever and make that grow again. Now that we've done the essential improvement work, we're going to invest in it again so we see that as one of the future strong drivers of growth for us.
The Great British public are remarkably resilient when it comes to buying things that are important to them
With Easter coming up, have you got any important innovations on the horizon?
Yes, Easter is such an exciting time for us in innovation. So to pick a couple of examples on different ends of spectrum, we've got most hardcore Easter egg we've ever developed - 100% dark pure cocoa - and a new white chocolate lamb.

We have six vegan products in our Easter lineup and the 100% cocoa egg is one of them. Ever since we became cocoa growers, we've fallen under the spell of simple cocoa and we were one of the first in the market to do 100% grade well. It's hard because there's nowhere to hide, you can't improve the taste by adding sugar or milk. If any of the stages go wrong, yes it will be 100% but will it be a good one? So over the past few years we've built a bit of a following in our 100% cocoa range and it's become an important part of our sales.

The other innovation right at the other end of the scale is a cute white chocolate lamb. When we built up our brand credentials, we didn't really do anything for the children's market but we had so many requests to do things for younger people that we decided we had to. The lamb will be created by our resident chocolate sculptress and when we're satisfied with the shape, we will make a casting of it. The important thing is when you look at the ingredients, the biggest one is not sugar it's cocoa butter. All white chocolate on the market apart from a few exceptions will have sugar as the biggest ingredient. So we are making products for children, yes, but rigorously applying Hotel Chocolat values and we're hoping they're going to go well. This Easter is quite a significant step up for the children's market; we will have twice as many products this year that could be considered suitable for children.

Finally, do you have any worries over consumer confidence once Article 50 is triggered? How could this affect sales of luxury brands such as Hotel Chocolat?

Well, I think we've had quite a lot of newsworthy macro-economic events over the past few years and what we've seen is the Great British public are remarkably resilient when it comes to buying things that are important to them. We're not expecting any major shock. How we can mitigate any effects is by staying as close to our customers as possible - maintaining quality and being a British producer, not implementing any knee-jerk price increases. We haven't put up our prices. The price of our raw ingredients has gone up - that's not unusual in that we always see spikes and declines and there's always volatility, but now you've got currency effects too. To overcome that, we are hedging 18 months ahead. Also, we add most of our value in the UK, where we trade in British pounds - we make 97% of our products in Cambridgeshire so that's a natural mitigating factor. And we're growing naturally so we've got economies of scale that we can pass on to our customers.