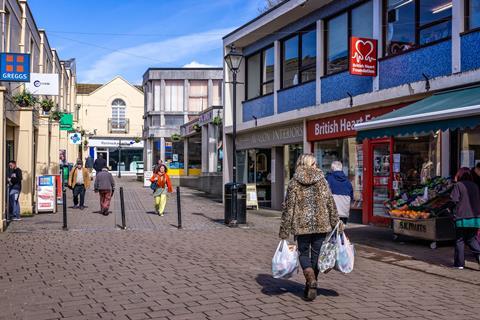 It's no secret high streets are struggling. The UK has 40% excess retail space and this figure looks set to rise with the closure of retail giants like Debenhams. From my work at Power to Change, I know we won't let high streets close without a fight, and with good reason.
High streets have always been about more than shopping. While they evolved as places of retail commerce, at their heart they have always been social hubs, where people come together, experience culture and access services, as well as do business. Understanding this connection between high street and community is key to their survival.
A new YouGov poll has revealed almost 60% of people see their high streets as a part of a collective local identity and heritage, with more than two thirds (69%) worried the decline of their high street will have a negative impact on local civic pride. Understandably, these concerns are shared by the private sector, keen to see their high street interests thriving.
If we all agree high streets must survive but retail-dominated high streets are dead, what is the future of town centres? The answer is on our doorstep.
High streets are complex, multi-dimensional spaces. Reimagining them for the 21st century will require concerted action. Government has a role to play in increasing transparency of ownership and introducing new forms of governance enabling communities to set the direction for their town centres. Local authorities can make space available on a meanwhile basis and transfer ownership of buildings to communities.
A new report from the London School of Economics and Political Science argues the private sector must also work more closely with local communities if it is to respond to the challenges and opportunities facing high streets.
Local people are best placed to understand the needs of their community. We have repeatedly seen that where communities play an active role on high streets through socially trading organisations like community businesses, they bring a resilience to the high street ecosystem.
However, there are multiple challenges preventing these businesses from flourishing. Lack of access to local decision-making, fragmented ownership, and prohibitively high rents and property prices. While we need better governance and greater clarity on ownership, private property owners – including major retailers – and developers can work with communities to help high streets thrive again, through social leases and turnover-linked rents.
So how can we mitigate the challenges faced by community businesses? Some private developers and high street property owners are already exploring more community-oriented models. Our recent report identified five ways the private sector can do more: Providing subsidised space or business enterprise support; greater collaboration and partnership with community businesses; creation of community hubs in shopping centres or superstores; meanwhile use of space; flexible leases for community businesses.
The need for greater community involvement has also been echoed by the government in its new high street strategy. It is promising to see the government "wholeheartedly" recognising that communities need to be at the heart of every high street and every funding decision. But it's vital that interventions provide communities with greater access to high street buildings, rather than the centralisation of hyper-local issues like the provision of bins.
Creating more sustainable town centres not only helps community businesses thrive, but creates a chain reaction that benefits everyone, including major retailers. If the private sector work with local communities, we will see healthier, more resilient high streets bringing economic benefit not only to our communities, but the private sector too.