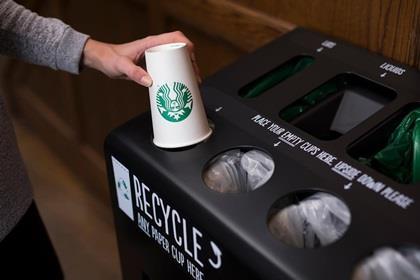 Introducing a latte levy could jeopardize up to 11,000 jobs and wipe £819m from the UK economy through lost sales and redundancies, according to research commissioned by the Paper Cup Alliance.

Environmental policy and marketing firm Ecuity found coffee outlets could lose up to £646m in lost food and drink sales, while unemployment could cost the economy £173m.

Ecuity dismissed the argument that the 25p disposable cup charge on consumers would encourage reusable cup use. It cited Cardiff University figures showing that as few as 5.7% of consumers would switch to reusable cups while up to 8% may stop purchasing coffee altogether if the latte levy was introduced.
The PCA, which represents the UK's eight main cup manufacturers and suppliers employing 1,700 staff, urged the government to consider the implications of introducing the latte levy.

It highlighted the possibility of redundancies at manufacturing sites in Wrexham, Gosport and Huntingdon if there was a significant decline in disposable coffee cup sales.

The PCA called on the government to instead invest in a better recycling infrastructure and clearer labelling on paper cups to indicate to consumers that they are 100% recyclable.

"This research should come as a sharp wake-up call to policy makers and politicians calling for a latte levy," said PCA spokesman Mike Turner.

"More can and should be done to increase paper cup recycling rates, but this needs to be balanced against the devastating impact that a 25p tax could have for thousands of people working in the British cup manufacturing industry, the towns they are based in, and the wider supply chain."

British Coffee Association executive director Chris Stemman said: "While very supportive of increasing the volume of coffee cups being recovered and recycled, we do not believe that a latte levy is the right solution. Paper cups, including coffee cups, make up just 0.7% of paper waste and any tax would be unfairly targeting coffee drinkers to pay to fix an entire recycling system for all packaging.

"The Paper Cup Alliance's report is cause for concern and highlights again that just because policies such as the 5p carrier bag charge have been associated with some positive impacts in reducing plastic bag use, it does not mean this will necessarily happen in other areas such as paper cups."

This comes after Starbucks, Costa Coffee, Pret and Caffè Nero all signed an agreement in October to increase the recycling rate of paper cups.

The latte levy has been heavily criticised by the OOH sector since it was suggested by the Environmental Audit Committee back in January.

Costa's UK MD Jason Cotta expressed his opposition to the latte levy in an exclusive interview with The Grocer last week, saying "the latte levy singles out coffee shop operators, so we are definitely against it".

Environment minister George Eustice reignited the debate last month when he said he had not ruled out the prospect of introducing the latte levy.