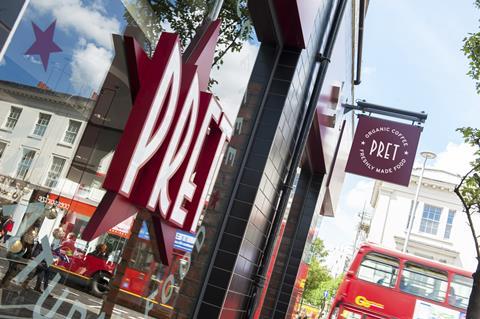 Pret a Manger has defended its approach to pricing, amid claims the chain has been profiteering from the cost of living crisis.
Over the past week several publications, including The Sun and The Times, have criticised the chain, accusing executives of inflating its prices ahead of both the market and inflation.
Pret shops & franchise director Guy Meakin addressed the claims during an appearance at the Lunch trade show in London on Wednesday. He insisted the company had always been "transparent" with customers.
"It's a really tough market," Meakin said. "Energy costs have gone up through the roof, and are now starting to plateau and come down, which is encouraging – but still significantly higher than before.
"But prices are going up, so unfortunately, we are having to pass our prices through to our customers from time to time."
When it had to do so, Pret had "owned those big moments pretty well" and given customers notice of the plans, Meakin said. He referred to the chain's Club Pret coffee subscription as an example.
In April, the chain increased the price of its much-vaunted loyalty scheme by 20%, to a £30 a month. It did, however, introduce a 10% discount on food and other Pret products.
At the time, Pret CEO Pano Christou told The Guardian that its costs for key products like milk, coffee and crisps had all increased, by 16%, 48% and 125% respectively. Three successive pay rises over the previous year had also pushed up staffing costs by 19%.
The discount offered on food and drink was later doubled in August.
Meakin said prices could differ across its footprint for multiple reasons, based on whether a customer eats in – which adds 20% VAT – and the specific location. Like other chains, Pret charges more for products bought from stores that have higher operational costs, like travel hubs. It also adds a premium for delivery, though this remains a small part of its sales.
Pret needed to remain "competitive" but also "mindful" about its prices, Meakin said. "We have more price points than we've ever had because of our different type of formats, and we need to hold ourselves to account on that."
Consumer price inflation slowed in August, falling from 6.8% to 6.7%, according to the latest figures from the Office for National Statistics. It's down from a peak of 11.1% in October 2022.
Lumina Intelligence's Menu Tracker showed that the average price across UK coffee and sandwich shops increased by 6% between Q2 2023 and Q2 2022.
A spokesman for Pret told The Grocer: "The sandwiches sold in our shops are prepared fresh in Pret kitchens every day and throughout the day by our team members.
"This is a fundamental difference to sandwiches available in supermarkets, which are made by food manufacturers in factories off-site, and so we are facing different cost pressures that we are trying to absorb as much as possible.
"We continue to offer great value for high-quality, freshly made food and organic coffees, alongside a dedicated value range of sandwiches, Made Simple, which are priced from £2.99. We also recently doubled the Club Pret discount to help customers save even more, so subscribers now enjoy 20% off everything in shop as well as up to five barista-prepared drinks per day for just £30 per month."