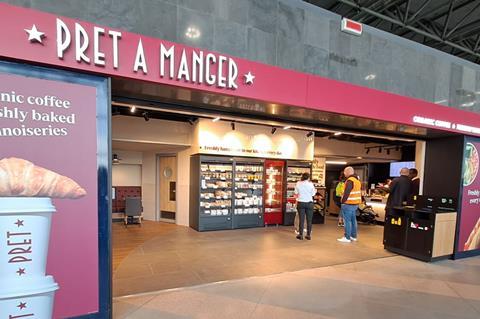 Pret a Manger has opened its first store in Italy, as part of ambitious expansion plans aimed at doubling the size of the business.
The site, located at Milan Malpensa Airport's Terminal 2, is the first of 40 targeted openings under a development agreement with Chef Express. It will serve a typical selection of Pret sandwiches and hot drinks, all prepared on site. Soups, wraps, fruit pots, pastries and smoothies are among the products also on offer.
Chef Express, which is the catering arm of the Italian food conglomerate Cremonini Group, will manage the site. It is targeting three more openings by the end of the year, including a shop at Malpensa Airport's Terminal 1, as well as two outlets in train stations.
The opening follows the chain's expansion into Portugal and Spain in June last year, as part of an ambitious expansion plan to double the size of the business by 2026. The plans, announced in 2021, were spurred by an initial £100m investment from owner JAB Holdings, and co-founder Sinclair Beecham.
The chain aimed to open in five new markets by the end of this year, however the Italy opening marks the eighth market it has reached since the plans were laid out.
The chain now has more than 550 shops, including 70 in Europe, in countries including the UK, Ireland, US, Hong Kong, France, UAE, Kuwait, Switzerland, Belgium, Singapore, Luxembourg and India.
"We know Pret has a huge fanbase in Europe, so I'm delighted to be bringing our freshly made food and organic coffee to even more people across the continent," said Pret CEO Pano Christou.
"Launching in Italy is a big moment for us and something I've been personally looking forward to. We're excited to be working with Chef Express to help us introduce the Pret experience to people in Milan first, then across the country."
Chef Express already holds existing partnerships with McDonald's and Wagamama, making it the "ideal platform" to develop international restaurant brands in Italy, Pret said.