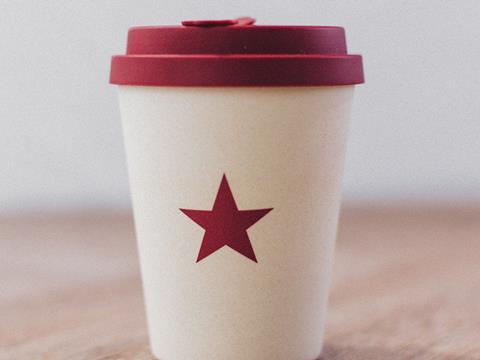 Pret A Manger has launched its first reusable cup, made from lightweight bamboo fibre.

Launched in partnership with reusable cup company Ecoffee, the 12oz cup has a resealable no-drip lid, branded with a red Pret star on a cream background.

Customers can purchase the dishwasher safe cup for £10.
It comes after Pret increased its reusable cup discount from 25p to 50p in January, sparking a tenfold increase in customers bringing in their own cups, with over 85,000 drinks now served in reusable cups a week.

Pret CEO Clive Schlee said that he hoped the move would encourage more customers to bring in reusable cups, adding that the company was "amazed" at the increase in customers bringing in their own cups since the 50p discount was introduced.

Pret has also pledged to eliminate all unnecessary single-use plastic by 2025. As part of the commitment, it is rolling out paper straws, removing hot drink stoppers and teaspoons, and expanding china cups beyond the current 125 stores.

This comes as part of wider developments in reusable cups across the food to go sector.

Starbucks announced a £10m investment to accelerate the creation of a fully recyclable and compostable cup back in March.

Meanwhile, Whitbread head of sustainability James Pitcher told The Grocer earlier this month that Costa was looking at developing a range of new reusable cups, with news expected to emerge later this year.