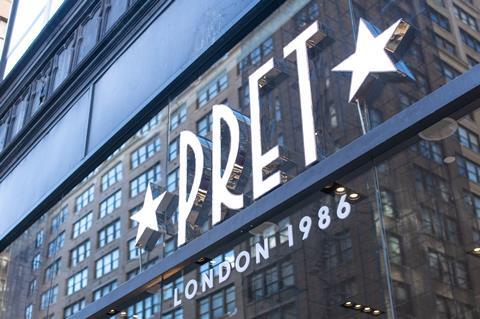 Food-to-go giant Pret a Manger has opened its first store in Spain, at Josep Tarradellas Barcelona-El Prat Airport.
The 530 sq m store, located in the arrivals area of the airport's terminal Two B, is the first of up to 70 restaurants Pret plans across Spain and Portugal over the next decade, as part of a franchise arrangement with Ibersol Group agreed in June 2022.
It's the latest of a string of openings across Europe over the last couple of months, including in Italy, Luxembourg and Northern Ireland, as Pret accelerates plans to double the size of its business by 2026.
The new Barcelona site will offer an "extensive range" of Pret's barista-prepared hot and cold drinks. It will also serve a typical line-up of freshly made baguettes, wraps, salads and hot food made on site.
"Pret's growth around Europe is well underway, and we're delighted to be bringing our freshly made food and organic coffee to even more people across the region," said Pret CEO Pano Christou.
"Opening our first Pret a Manger in Spain is another huge moment for Pret, and something I've been personally excited for. Ibersol is the perfect partner to help us introduce the Pret experience to people in Barcelona first, then across Spain and Portugal."
Pret targeting franchise partnerships
The chain has tended to target travel hubs and major cities, and has been building a network of franchise partners to work with in different regions. Ibersol Group already holds agreements with brands including KFC, Taco Bell and Pizza Hut, and will operate the store and potential new openings on Pret's behalf.
"We are very pleased to announce the first opening in our country of Pret a Manger, one of the world's leading restaurants," said Alberto Teixeira, Ibersol Group president.
"This is a great milestone for the company, with which we begin the brand's development plan in the Iberian Peninsula, with the aim of opening 70 establishments in Spain and Portugal in the next decade, and positioning it as one of the great benchmarks and with the greatest growth projection in the sector."
The new site means Pret now has more than 660 stores across 15 markets.
In addition to its new stores in Europe, in October, Pret signed a joint venture with US franchise Dallas International, to "triple" its presence in North America over the next three years.