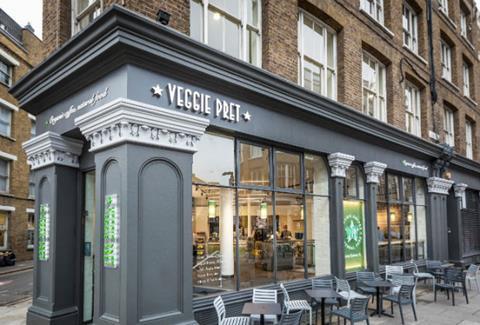 Pret A Manger is to open its third veggie store in the capital in October.

The food to go chain tweeted the announcement earlier today: "We're excited to announce that Veggie Pret is growing! Shop no.3 will open its doors later this year… watch this space! #VeggiePret."

The new opening, which will be in Exmouth Market, follows the success of its two other Veggie Pret stores on Great Eastern Street in Shoreditch and in Soho.

The concept was initially trialled as a pop-up store in Soho last June, before its popularity secured it a permanent place within the Pret franchise. The second Veggie Pret opened up in Shoreditch in April. It is not yet known exactly where the third branch will be located, and Pret has simply confirmed it will be in London.

Earlier this year, CEO Clive Schlee revealed the veggie-only branches were attracting a wide range of customers. "It seems to be working - quite surprisingly, over half of the customers in our Veggie Pret shops are meat-eaters; and new ranges such as our Veggie Boxes, packed with ingredients like turmeric cauliflower and sweet potato falafels, are out-selling meaty options," he said.

In June, Pret A Manger also trialled veggie-only fridges in its shops for one month.