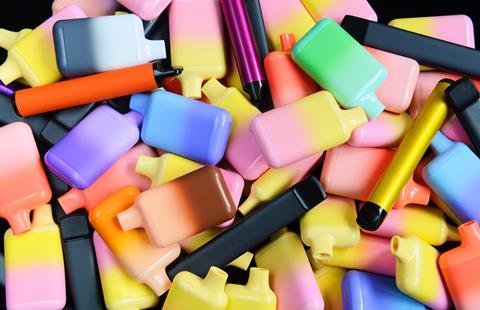 Superdrug is to stop selling disposables vapes in UK and Ireland stores, over concerns about the environmental harm caused by the millions of them disposed of daily.
The decision means brands such as Vuse Go and Flavaah Bar will no longer be sold by the health & beauty retailer, with stock to be cleared by the end of the year.
Superdrug said its decision followed recent reports that nearly five million single-use vapes were disposed of every week in the UK. The figure, based on research by recycling campaign group Material Focus, represents a fourfold increase over the past year.
"The rate that consumers are using single-use vapes and discarding them is worrying and alarming for the environment," said Superdrug head of ESG Lucy Morton-Channon.
"Many of these single-use vapes contain lithium batteries, which should be disposed of responsibly but many end up in landfill, and incorrect battery disposal can lead to a risk of fires.
"The lasting effects that single-use vapes are having on the environment needs to be addressed, and I am pleased that we've decided to remove them from all stores."
Superdrug healthcare director Ghada Beal said: "We need to be responsible about the growing trend in disposable vapes among young people, and the lasting effect on the environment. We have a wide range of products at Superdrug to help those wanting to quit smoking."
In January this year, Waitrose also delisted all single-use vaping products, over concerns the brightly coloured and sweet flavoured devices attracted "young non-smoking" users.
Ministers are reportedly poised to ban single-use vapes altogether after public calls from local authorities and health groups to make them illegal.