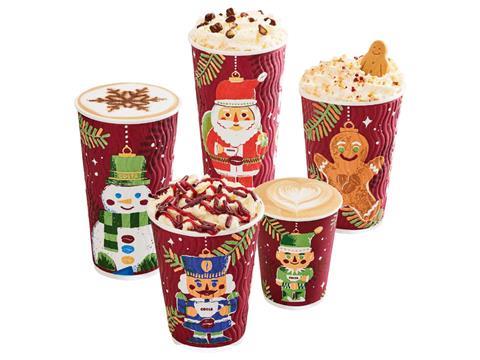 Festive drinks have become as much a sign of Christmas as the sight of a sausage roll in a manger. Every year, UK consumers flock to coffee shops for a perfectly handcrafted espresso drowned in saccharine syrups that vaguely remind us of Yuletide.
And it's become big business. Tech company GroundTruth claims a somewhat unbelievable 44% of consumers are encouraged to visit a coffee shop because of their festive drink offering, driving chains to produce new creations every year. So who has brought out 2017's best new concoction? The Grocer tested out mince pie flavoured lattes so you don't have to.
Caffè Nero's Clementine Hot Chocolate: 3.5 out of 5
The new kid on the block for Caffè Nero is a clementine syrup, to remind us of categorically the worst gift you received in your Christmas stocking as a child. (Is it a chocolate? Is it a toy? No, kids, it's a small orange.) Disappointing memories aside, this drink had plenty of potential. The chocolate/orange flavour combo is something of a classic and conjured up imaginings of a liquid version of the Terry's confectionery. (There was a clementine latte available, but we'll readily admit we weren't brave enough to try that option.)
At first sip, the drink was pleasantly sweet. Somehow, the flavour is very much clementine rather than just plain orange. That just about worked with the cream and chocolate but as I moved past the initial cream buffer, the strong taste of childhood disappointment became slightly cloying. It's most certainly drinkable - which is by no means a given for festive concoctions - but not necessarily something worth ordering again. Still, full marks for bravery for putting a clementine latte on the menu.
Pret A Manger: Festive Flat White: 1 out of 5
The food-to-go chain's much-anticipated Christmas menu launch prompted an impressive 13% increase in footfall on the day, compared with an average of 5% across Caffè Nero, Starbucks and Costa. So expectations for its Christmas drink were high. The new festive white latte is essentially a flat white with a dash of mince pie syrup.
All credit goes to Pret's marketing team for describing the "notes of apple, plum and cinnamon" on its online menu, giving it the feel of a high-end wine tasting event. Sadly, the only thing it had in common with wine tasting is that a spittoon would have come in handy.
It's a shame, as the flavour combination could have been a masterstroke. However, unfortunately for this caffeine and mince-pie-addicted journalist, it was not. The strange fusion mingled together to create an altogether new and revolting flavour that isn't easy to put into words.
On the plus side, this new drink caters for the upcoming vegan demographic, offering soya or rice milk alternatives, as well as rice coconut milk, for an extra 35p.
The Grocer applauds the bold experimentation with flavour, but would rather keep mince pies out of hot beverages for now.
Costa's Billionaire's Latte: 3 out of 5
In September, Costa brought creations such as a camel milk latte and Chinese jasmine cappuccino to Londoners in a two-day pop-up bar. If they were this wild in autumn, it's fair to say we were slightly nervous about what they would do for Christmas.
But it turns out Costa had the most reassuringly conventional - and pleasant-sounding - new Christmas drink of the lot. The decadent Billionaire's Latte aims to recreate the well-loved chocolate and caramel shortbread flavours by combining Belgian chocolate sauce and caramel sauce with Costa's Mocha Italia blend. It's like cake, but in a drink. What could possibly go wrong?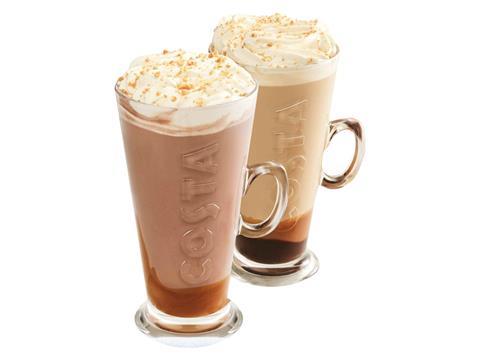 Decked with copious amounts of whipped cream (which is always welcome), it tasted much like a creamy latte until hitting a slightly overwhelming sickly sweet layer of syrup, much like an aunt's perfume when you go in for that obligatory Christmas hug. Nothing a quick stir wouldn't solve, though - and better mixing could have taken it into four-star territory.
Starbucks' Festive Cold Brew: 2 out of 5
Ah, cold brew. Although still a relatively hipster concept in the UK, Starbucks first made it a core menu item in the US and Canada as far back as July 2015. Now the chain is investing in a UK range. It went a bit Heston Blumental back in February with the launch of its Nitro cold brew, a coffee infused with nitrogen, in selected London and Manchester stores.
This festive season, it is trying to make cold brew more mass market by introducing a version containing "subtle Christmas-style notes" across all branches. It felt slightly risky to launch a cold coffee at a time when frost-bitten shoppers are looking for something to warm their cockles, but we had high hopes this could be the dark horse of the lot.
Crammed full of orange and cranberry pieces, it is certainly the healthiest of the offerings - representing half of your five a day.
But the result brought new truth to the phrase 'if it tastes bad, it must be good for you'. The coffee was a little strong and its bitter aftertaste came as a bit of a shock. I felt like I was drinking Mary Poppins' medicine, only without the sugar to help it go down. An acquired taste, perhaps.