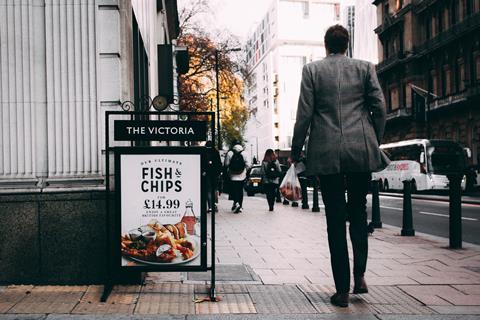 Hospitality will once again open its doors – or at least, its outdoor spaces – to customers next week. It's an important moment. Consider how those in the reawakening hospitality sector will now attempt to navigate a path to profit. With under 10% of adults having had the second dose of the vaccine, the nervousness of many consumers will be a factor in what will amount to a hospitality 'long Covid'.
A balanced margin mix across all channels sounds like a relief to many sales directors. But although suppliers need to nurture their OOH trade, these customers will also be asking for restart 'help' and such investment will not pay back quickly.
Meanwhile, the mults not only will need to protect a 15% like-for-like growth over the past 12 months, but do that whilst defending hospitality losses. That's amid an imminent price war as a potential double-dip recession looms, while Amazon stores open up and Aldi and Lidl pepper the country with new locations – and let's not forget online still lies in their tank of weaponry to unleash. The multiple mainstream retailers are still struggling to keep up with demand online and need to 'restructure' to drive costs out their business, equip for omnichannel capability, and brace for a bumpy couple of years presenting annual results to the City.
For suppliers, this is an approaching head-on crash of hefty demands. Retailer pressure is real and the pressure on suppliers is therefore just as real. The toughest supplier challenges are when they know these are not empty threats. The temptation is to concede margin on isolated products, eroding returns. This, of course, creates an expectation they will continue to prop up the failing retailer business models and should be avoided. Here are three tips.
1. Budget correctly
Target setting is the big challenge for suppliers and retailers alike over the next few months. Whilst lapping big numbers is a normal challenge for both, it has extra significance depending on how good, or bad, their 2020 was. Manage the expectations of all stakeholders siting the mitigating factors. Assume that at least one major account is not firing on all cylinders or you'll be forced into making the wrong short-term decisions.
2. Create a business plan with customers
You can use the target-setting concept internally but even better as a bridge across the divide. The temptation may be to concede margin, however it is much better to use a JBP to negotiate a more-for-more plan building the joint returns. A key variable here is time. These pressures are here to stay and rebalancing your mix to joint benefit right now is sensible – locking it in for a longer period is even better.
3. Quote GSCOP early when talks veer
The protection in the code is one many don't like to invoke, but by floating knowledge of your rights, this will keep the conversation honest from the beginning.
And lastly, enjoy hospitality!