A new book by John Timpson reveals his 50 biggest heroes in high street retail. We asked the shoe repair magnate to elaborate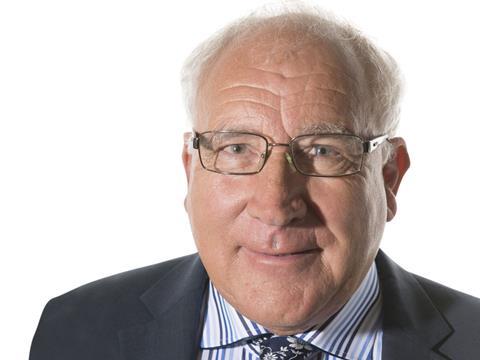 Image courtesy of Scott Wishart
Aldi and Lidl

"The question to ask now is how much more can they grow before they get too big?"

How big is too big, and what problems will Aldi and Lidl encounter as they grow? It's all been a bit David and Goliath so far, but when David becomes too big he becomes Goliath. You will find, and it's already happening at Tesco, that the bigger supermarkets will focus on matching discounter prices on their key lead lines and then take advantage of their wider range. It would be stupid to suggest Aldi and Lidl won't continue to grow for the next five years, but 20 years from now people will still want supermarkets. The idea people are abandoning them for cheap, convenient smaller shops is completely overdone. Aldi and Lidl will open bigger stores. In the end, they will all get bigger.

Amazon

"Amazon, which has yet to make a profit, has a market capitalisation of $174bn"

There is a lot of noise out there about Amazon and grocery. How disruptive can Amazon be? It's very difficult to envisage what's going to happen in the future when it comes to online. One thing online grocery doesn't do is make money, and in the end you have to make money to survive. And if you continue the existing model of the way it's done online, and you grow it until it becomes a very substantial part of the market, it's going to be a substantial part of the market that doesn't make any money. It's so expensive to get things delivered to the door, although the grocers are starting to realise they need to tweak the model to make money. A lot has to change. But that's the fun, isn't it?

Asda

"Norman and Leighton knew shopkeeping is about people: colleagues and the customers"

Like the rest of the big four, Asda is treading water. What would your message to Andy Clarke be? Concentrate on the culture. That's always got to be part of Asda. We pinched a lot of great ideas from Asda and I still find Asda quite exciting. More than anything, I would say look at what's worked and keep it going. One of the great things Asda has done is keep Walmart at bay by staying British. The American and UK markets are totally different. You can't take Walgreens or Walmart and shove it in the UK. And I never saw one of Tesco's Fresh & Easy stores but it was always going to be bloody difficult. Just because we speak the same language doesn't mean we have the same tastes and habits.

Morrisons

"You can run a company on common sense if you have the rare talent of Ken Morrison"

Morrisons hasn't been the same since Sir Ken left. Where do you rank him among the all time grocery greats? Right up there. He is the modern-day Jack Cohen. He did 'pile em high sell it cheap', but in a Yorkshire, Northern way. Although they shouldn't have been so surprised that it was difficult to integrate Safeway. It's never easy to start with, you're never trusted by the colleagues and they were making a big move taking a Northern culture down South. They weren't liked for that. Probably in retrospect it would have been better to have stayed as they were. Will the big four become the big three? Probably, but who knows when. Perhaps Morrisons will become Aldi?

Sainsbury's

"King always looked pleased with himself, but he had plenty to be pleased about"

Who was better, Justin King or Sir Terry Leahy? It's so difficult to compare. Probably Terry Leahy. He was better in many ways but Justin King, who made a perfect exit at two minutes past midnight, didn't leave a problem for his successor in the same way. So, in that respect, King. But Leahy is a much bigger character overall in long- term retail. He changed the retail landscape much more than King ever did. King fixed Sainsbury's and left a fantastic business for Mike Coupe, who I don't really know, but he seems to have done a pretty steady job. He's not done anything fantastic but he hasn't done anything wrong, either. Which is probably the best way to play it in a difficult market.

Tesco

"Clarke was delighted Leahy picked him but it was an impossible task"

There is sympathy for the hospital pass argument, but what was Clarke's biggest mistake? When one person gets the top job, those who don't often disappear. And too many disappeared. I thought he was making some nice changes but he wasn't able to carry the people with him and he didn't think big enough, looking back. Poor chap, everyone piles into him and blames him for growing too fast but those plans were in place five years before. I don't know Dave Lewis but I do know Matt Davies. He did a great job at Pets at Home and Halfords but he's got a big job. God it's a big job. But Project Reset is almost certainly the right thing to do. It's overdue, much-needed housekeeping.

Waitrose

"Price has put Waitrose on a pedestal by looking after colleagues and customers"

How has he done that? The big difference between Waitrose and other supermarkets is the people. The staff at Waitrose know they are there to help you, and I'm not sure you would recognise that attitude among the big four. I think Waitrose picks the right people in the first place, and there is a pride working for the John Lewis Partnership. Pride has existed among the others, but not to the same degree as in Waitrose. If I was involved in the other supermarkets, I'd be looking very carefully at what your people are like. It's a big problem, especially when you are employing 270,000 people like Tesco. Everything about John Lewis is impressive. We admire what they do.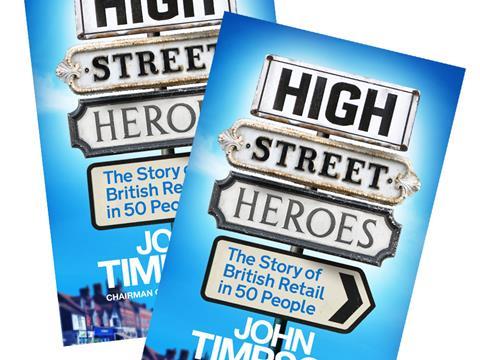 High Street Heroes: The Story of British Retail in 50 People is published by Icon Books on 19 October 2015 (£12.99 Paperback, £9.99 e-book). Timpson was born in 1943 and became MD of William Timpson in 1975. Last week Timpson reported a 12% rise in sales and a 38% rise in profit to £18.7m. Timpson and wife Alex have been foster carers for 31 years and have fostered 90 children.
John Timpson's Top 10 High Street Heroes
1 Marcus Sieff, Marks & Spencer
2 John Spedan Lewis, John Lewis
3 John Davan Sainsbury, Sainsbury's
4 Ken Morrison, Morrisons
5 Simon Wolfson, Next
6 Jesse Boot, Boots
7 Ralph Halpern, Burton
8 Ian MacLaurin, Tesco
9 Anita Roddick, Body Shop
10 Ray Kroc, McDonald's