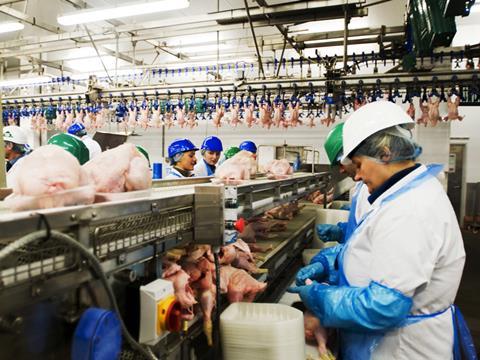 2 Sisters Food Group has created 300 new roles at its poultry processing plant in Willand, Devon, as part of plans to extend capacity.

The company also intends to take on 20 new butchery apprentices following its investment to extend operations which has so far seen it bring in new thigh de-boning equipment. The facility has also set its sights on increasing its capacity to process, cut and pack poultry for retail.

Many of those taken on in the recruitment drive are production operatives, while roles have been created in finance, animal welfare, engineering and quality assurance. Almost half of the roles will be converted from agency positions to permanent 2 Sisters staff.

Its apprentices would split their time between the Devon poultry plant and a 2 Sisters-owned red meat processing facility in the South West, said a spokesman, with training meeting National Apprenticeship standards.
"We have always said we will invest at the right time, in the right location, when it benefits our business and our customers," said 2 Sisters MD for UK poultry Keith Packer.

"It is not about being bigger; it is actually about having a smaller, more focused footprint that has the capacity to carry out the whole operation. Willand and the greater Devon area is a perfect fit for us because it gives us access to a strong growing base with excellent farms and a loyal workforce who deliver day in, day out."

The move follows the appointment of Ronald Kers as 2 Sisters CEO on 1 June amid a period of divestment by the company, with The Times reporting on Sunday that the food giant's Holland's Pies brand would be the next subsidiary to be offloaded.

Its Donegal Catch fish brand is already on the market, while the company announced in April it would close its Cambuslang site in Scotland. The closure is set to come with the loss of about 450 jobs by August, after a consultation found the loss-making plant was not financially viable.