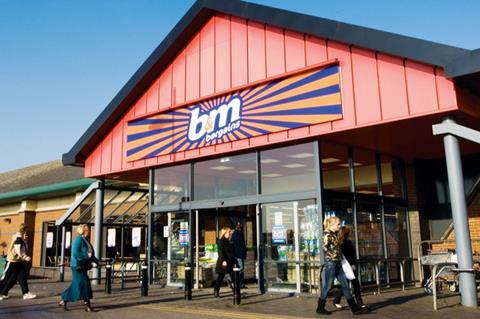 B&M has said it wants to hear from workers affected by redundancy or restructures, following the announcement hundreds of Poundstretcher stores are at risk of closure.
In move that may offer hope to thousands of Poundstretcher staff potentially affected, its rapidly growing rival said it had opportunities across the country.
The fate of more than half of Poundtretcher's 450-store estate hangs in the balance following the announcement of a CVA (company voluntary arrangement) rescue plan earlier this week. The company employs more than 5,500 people.
"The current pandemic has brought challenging times and we're sorry to hear that some businesses won't be returning to normal, whatever 'normal' may now be," B&M wrote on LinkedIn yesterday.
"If you have been affected by redundancy or restructures, or you know somebody who has, it would be good to hear from you! We have opportunities throughout the UK across retail, support centre, warehouse and security.
"B&M are one of the UK's fastest-growing retailers and with our ongoing expansion plans, now is a great time to join us!"
The post includes a link to B&M's careers webpage, where candidates can search for opportunities in their area.
B&M saw double-digit revenue growth in its latest financial year. UK B&M fascia store revenues rose 13% in the year to 28 March 2020, and 3.3% on a like-for-like basis.
KPMG confirmed on Tuesday that the fate of 253 Poundstretcher stores across the UK was dependent on their performance and landlord co-operation in the coming weeks.
An internal memo from Poundstretcher to all its employees told them: "We all know how hard it's been on the high street for the last few years and our business has suffered to the extent that we need to restructure."
The FAQ-style memo also said: "The underperformance of a number of stores means that we have to try and do something to return the business to profitability."
Under the CVA, the 253 stores will pay full rent for an initial period of six weeks "after which continued trading will depend on the commercial merits of each store with the relevant landlords' collaboration", KPMG said.
The CVA also proposes 30%-40% rent reductions on another 84 stores for a period of three years.
Meanwhile a connected company, Poundstretcher Properties, from which a further 23 stores are leased, will go into administration before 2 July, the deadline for creditors to vote on the CVA.
On store selection, Poundstretcher's memo to staff said: "The CVA proposal seeks to reduce rent on the majority of stores. The categories are determined primarily by the profitability of the stores but other factors have been taken into account in the selection process."
The rescue plan leaves 94 stores to be retained at current rents. It is part of a wider turnaround plan that will also realign costs at the head office in Leicester, KMPG said on Tuesday.