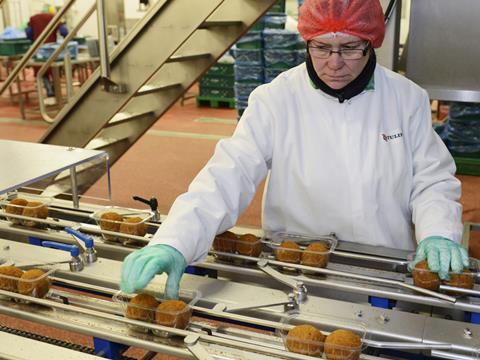 Tulip has cut over 100 staff in a bid to slash operating costs following another big drop in profits.
The UK pork processor posted a net operating loss of DKK 260m (£31m) for the 2017/18 financial year, against a loss of DKK 231m (£27m) last year, parent company Danish Crown revealed today.
"A detailed review and analysis of Tulip has revealed that we have been unable to fully optimise our UK supply chain, while operating costs are far too high," said Jais Valeur, group CEO of Danish Crown. "We have therefore launched a comprehensive cost-cutting plan, and in the past two months we had to say goodbye to more than 150 salaried employees in the UK business."
As a result of these measures, the company hoped to reduce costs by more than DKK 200m (£24m) from the 2018/19 financial year, Valeur added.
The "ongoing problems" in the group's UK business were "impacting Danish Crown's earnings to such an extent that it will now take an extra two years to realise its strategic target of raising the settlement price paid to cooperative members by DKK 0.60 (0.07p) per kg," the company warned.
Turbulence on the world market, low global prices for pork and a strong euro had also "significantly undermined" group profits over the past year, warned Valeur.
Danish Crown's revenues fell from DKK 62bn (£7.35bn) to DKK 61bn (£7.23bn) DKK in the 2017/18 financial year, while total profits were down by DKK 151m (£17m) to DKK 1,361m (£161m), it revealed.
"Contrary to expectations, we have therefore not managed to improve our overall performance but have instead gone into reverse," he said. "This is not good enough, and more than anything it is frustrating, because in most other respects our strategy is succeeding."
The group's other processing companies posted better results, with Polish company Sokołów's earnings up 26% and Tulip Food Company in Denmark posting growth of 29% following a year of "improved sales of bacon in Europe and growth in exports of canned meat", it revealed.
"Overall, our employees across the group have worked fantastically hard during the year, and so despite the disappointing financial results, I've been confirmed in my view that the course set by the 4WD strategy is right," said Valeur. "We must continue to strengthen our four domestic markets in northern Europe and our Asian business, because it's all about establishing the right positions in the market."
The news comes two years into a major turnaround for the pork processor, which by September 2016 was haemmorhaging roughly £1m a week after losing approximately 25% of its customer base - including a number of supermarket contracts.
Turnaround specialist Steve Francis was brought in as CEO, who oversaw a major restructure, which included splitting the business into four divisions - Tulip Fresh, Tulip Added Value, Tulip Agriculture and Dalehead Foods. Francis stepped down in June, and was this month hired as CEO of the scandal-hit pastry shop chain Patisserie Valerie.
He was replaced by meat industry stalwart Andrew Cracknell, former MD of 2 Sisters' red meat division, last month, who was given the "clear mission" of restoring Tulip's earnings.