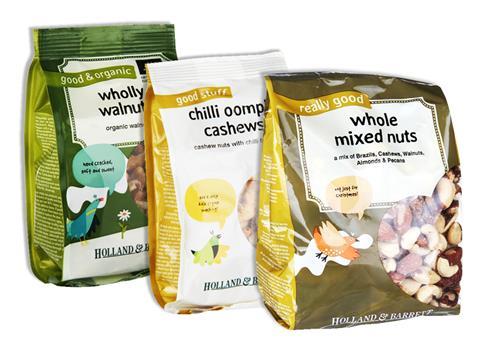 Holland & Barrett has revamped the packaging across its entire 80-strong range of healthy snacks and introduced 30 new products to capitalise on healthy new year intentions.

The redesigned packs contain information on the health benefits of each product, country-of-origin details, and feature the cartoon-word imagery used in the retailer's TV ad.

"January is an important time for the entire business as consumers are making healthier decisions, whether that's a complete diet overhaul or just small changes to the way they're snacking," said Amy Pettingale, assistant category manager for fruits, nuts, seeds and snacks.

The retailer, which has 735 branches in the UK and Ireland, has also launched 30 new products ranging in price from £0.99-£16.99.

No Saltio Pistachios and Curly Cashews are among the new additions across the nuts range, while Coconut Flour Frenzy, Great Ground Almonds and Buff Brown Linseed have been launched in the baking category aimed at those on special diets.

Holland & Barrett has also rolled out a nuts, seed and dried fruit 'pick and mix' concept across its new stores and introduced a dedicated nuts, snacks and seeds section on its e-commerce site.

Alex Thompson, head nutritionist for Holland & Barrett, said nuts were a "misunderstood" food and people often overlooked their health benefits. "This new packaging makes it easier than ever to identify what nuts are low in fat, contain less salt or are organic," he added.