This article is part of our Home Baking Digital Feature.
The discounters have stolen a bigger slice of the home baking market after dramatically increasing the size of their offering. Aldi has almost tripled the number of SKUs its stocks in home baking, while Lidl has ramped up its count from just nine products a year ago to 37 now [Brandview.com].
Aldi now carries 40 home baking skus, including sugar, up from 14 as of the first week of February 2014. Increasing its offering has driven sales growth of 51.1% [Kantar 52 w/e 1 February 2015], the largest increase of any retailer. A stark contrast to the losses suffered by Tesco, Morrisons and The Co-op (see below).
Retail share: home baking
| | Grocery Share | Home Baking Share | Index | Category Value % YoY |
| --- | --- | --- | --- | --- |
| Lidl | 3.1 | 5.5 | 177.4 | 24.8 |
| Aldi | 4.0 | 5.8 | 145.0 | 51.1 |
| Sainsbury's | 14.7 | 16.0 | 108.8 | 1.9 |
| Tesco | 25.8 | 26.4 | 102.3 | -4.6 |
| Non Grocers | 11.9 | 12.0 | 100.8 | 10.4 |
| Asda | 14.4 | 13.2 | 91.7 | 0.3 |
| Morrisons | 10.5 | 8.4 | 80.0 | -7.1 |
| The Co-Operative | 5.2 | 3.9 | 75.0 | -9.7 |
| Independents & Symbols | 1.2 | 0.4 | 33.3 | -4.3 |
Source: Kantar Worldpanel (52 w/e 28 Feb 2015)
Tony Baines, joint MD of corporate buying at Aldi – who previously said he wanted to make home baking fixture a destination within its stores – says it added more lines to tap into the rising popularity of home baking, driven in part by the success of TV shows such as The Great British Bake Off.
"We've increased our core product range to include all the store cupboard essentials and baking products that are required by keen bakers," explains Baines. "The Pantry range already included products such as Wholemeal Crusty Bread Mix, Lemon Juice and Chocolate Sprinkles. In April, we also introduced Lime Juice into our core range."
It's not just Aldi's own label range The Pantry that has been expanded. The category's best-selling brand Dr. Oetker can also be found on the discounter's shelves. "Discounters generally list Dr. Oetker products through promotional buys, so our largest sales still come through the major multiples," says Gill Davies, executive head of marketing (ambient) for Dr Oetker UK.
"However the discount channel is increasing in share and becoming part of the weekly shop destination for many people. As a result discounters are providing competition across home baking, as they do across total grocery."
Of the major multiples, only Sainsbury's and Asda achieved growth in the category. But it's not just Aldi that is stealing a slice of the mults' cake. Poundland and Lidl are muscling in as well.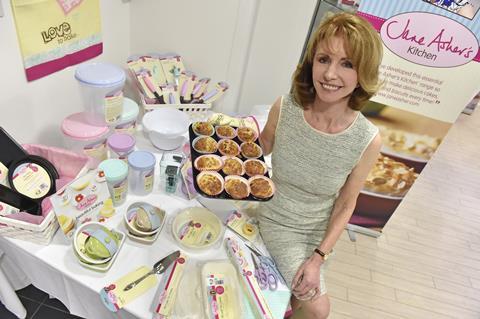 Lidl's sales grew 24.8%, while Poundland claims to have sold 10 million pieces since the launch of its Jane Asher bakeware range last spring. "We have done 10 million pieces in 12 months - 10 million pieces! Of a non-consumable product. It's not like a can of beans or a Mars bar," says Poundland CEO Jim McCarthy.
The range includes tins, bakeware and preparation equipment such as whisks and pastry brushes alongside a wide range of edibles from glitter to icing and sugar flowers for decoration.
Lidl has also expanded its baking range considerably over the last couple of years due to growing public interest in the category.
In addition to the extended range, a spokeswoman cites the "phenomenal success" of in-store bakeries, which the retailer is rolling out across the estate, claiming they are encouraging interest in the home baking range.
Aldi, meanwhile, is looking to seasonal events and TV programmes such as Great British Bake Off to promote its products.The retailer is also looking to work with bloggers.
Lidl is hoping NPD will drive further growth. "We're continually reviewing and refreshing our ranges to keep them interesting and exciting for our customers and NPD remains an integral part of this. We are constantly evaluating feedback from our customers and, along with our team who provide fantastic insight, we hope to continue to add value to this category," the spokeswoman adds.
The mults may be adding to their ranges with exciting branded NPD, in the form of interesting textures, tastes and formats, but they've definitely got a fight on their hands when it comes to the basics. Spatulas at the ready!
In partnership with