Flour, eggs, butter, sugar, a decoration or two… if only shopping for a sponge cake's ingredients was as simple as following the recipe. Home bakers typically have to traipse to multiple parts of the store to get what they need. Too often, ingredients are piled high like commodities. Supermarkets, for the most part, appear immune to Bake Off fever.
We think it's time that changed. The home baking fixture should be a destination in supermarkets. So we've asked retail design agency Sherlock to reinvent the home baking aisle. Here's what they've cooked up…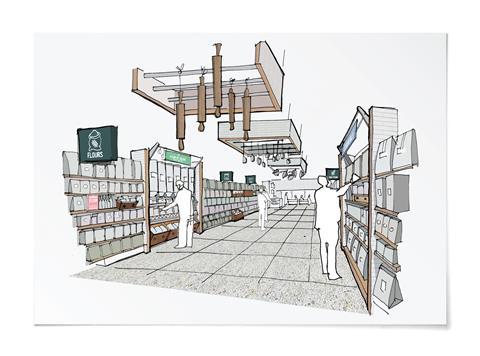 Welcome to home baking heaven, with everything a budding Mary Berry needs to knock up a showstopper within easy reach. "The home baking aisle is typically massive and bitty," says Tony Lock, MD of Sherlock.
"It's the packaging of the products that does all the hard work at the moment. It's time the fixture started doing more. It has to be exciting and keep drawing people in. Many retailers have been lax; to realise the full potential of the category there has to be theatre. People need to want to spend time here."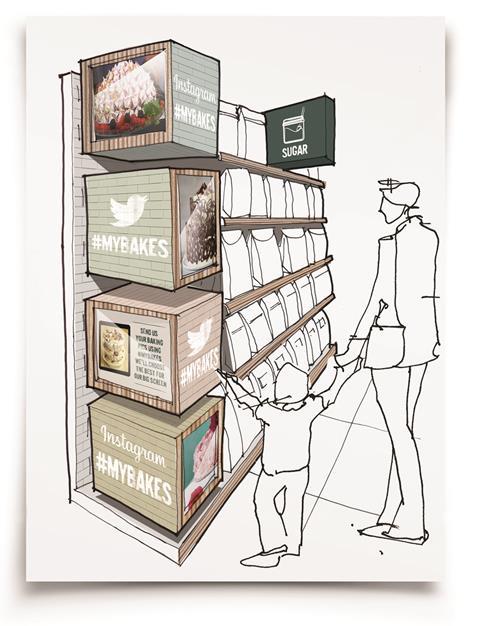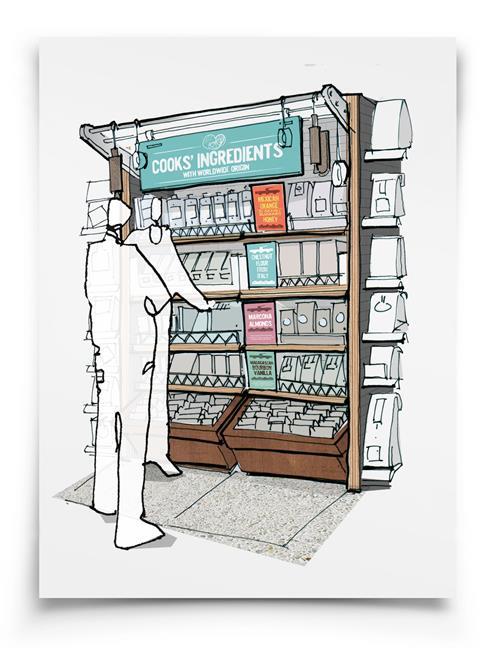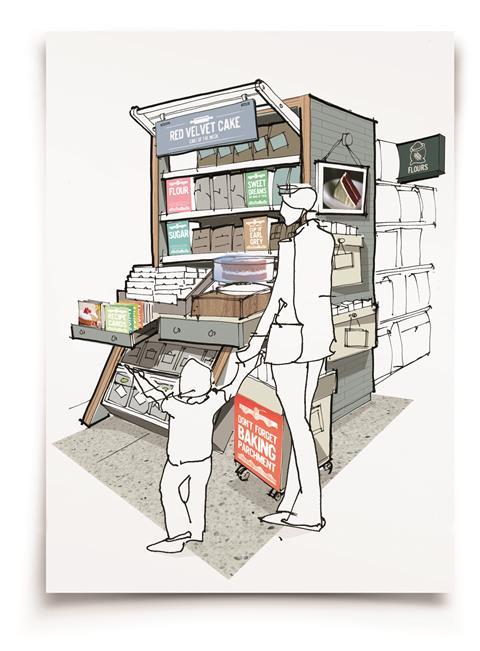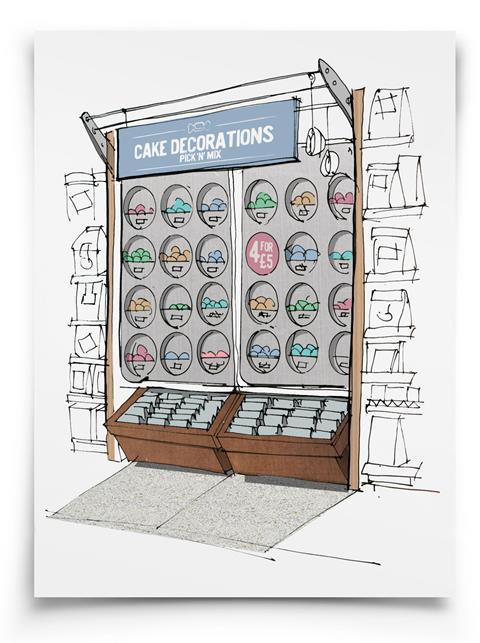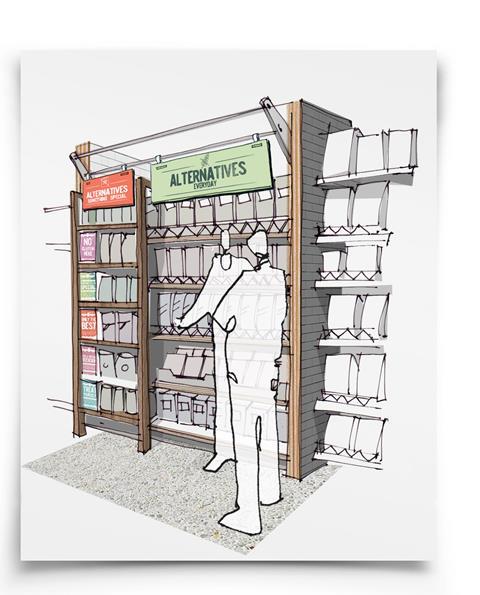 Sherlock's concept has theatre in abundance. Shoppers can weigh out their own ingredients and take them away in their own resusable packaging at the Cup of Sugar bay, allowing retailers to score points by cutting down on packaging and giving shoppers a closer connection with the products.
Bold, dark colours for PoS signage contrast with the typically pastel colours of home baking's biggest brands, while brick tiling and brushed steel effect fixtures give a hat tip to the finishes typically used in professional kitchens.
Lock says it was a conscious decision not to adopt the retro look espoused by the Great British Bake Off, which is filmed in a marquee wrapped in chintzy bunting and gingham fabrics.
"It's quite dangerous to go down that distressed homa baking and bunting look," he says. "I don't how long the category can keep trading on that look. We wanted to go with something with a bit more longevity."
Sherlock has certainly brought the sector into the digital age with its #MyBakes concept, an interactive display that invites shoppers to share their creations via social media. Winning creations would be shown on screens in store and be in with a chance of winning a prize.
"Baking has always been competitive, what with WI baking contests and the like… This concept updates that tradition and helps build community…"
"If you think about it, baking has always been competitive, what with WI baking competitions, summer fetes and so on," says Lock. "This just updates that tradition and helps build community around the fixture and among a retailer's customers."
Bakers are also getting more discerning, with premium ingredients that can demonstrate genuine provenance enjoying growing sales. To tap this trend, Sherlock has developed the Cooks' Ingredients bay to showcase products from around the world and make it easier for shoppers to distinguish one product from another.
Sherlock's Alternatives bay, meanwhile, is a nod to the growing demand for gluten and other allergen-free ingredients. "The free-from aisle is still very much perceived as the 'allergy aisle,'" says Lock. "We wanted to move away from that. It's partly about location but it's also about the language you use and the products you offer. The Something Special bay is about bringing a more premium offering to free-from baking."
In a move reminiscent of Sainsbury's Little Twists campaign, which encourages shoppers to try using new ingredients in classic dishes (such as chorizo in lasagne), Sherlock has developed its Cake of the Week fixture, bringing everything that's needed to cook a given cake together in one bay.
"There's a huge opportunity in cross-merchandising in the home-baking category… it is often a massive under-achievement in grocery. Our concept helps address that."
"There's a huge opportunity in cross-merchandising in the home-baking category," says Lock, pointing to the recipe card, parchment and other products that share the fixture with the more typical ingredients.There's even a freshly baked cake, allowing shoppers to buy a slice before they try it at home. "Cross-merchandising is often a massive under-achievement in grocery. This helps address that."
Baking is fun, adds Lock; so should shopping for it. "That's why we came up with the pick 'n' mix display for cake decorations," he explains. "It would allow retailers to cut down on packaging and bring the products to life a bit. I know if I went somewhere like this with my daughter we'd never get away from it."
And, as we know, the longer a shopper spends in an aisle, the more they're likely to spend.
In partnership with…

Sherlock Studio is a retail & graphic design consultancy with an in-depth appreciation of the food & drink retail space, as well as the foodservice environment. Collectively, our team holds decades of experience in strategic design & industry insight. Our holistic approach to client briefs ensures the best possible Return on Investment.http://sherlockstudio.co.uk / @sherlockstudio.
10 Things You Need To Know About Home Baking
1

2

3

4

Currently reading

How to create a little slice of home baking heaven in store

5

6

7

8

9

10

11